Education department 'insensitive' over party hats game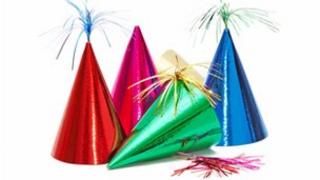 Civil servants have been accused of being "crass and insensitive" for using a game with party hats to highlight Department for Education cuts.
The PCS trade union has written to the department's Permanent Secretary to complain about the game, which was played at a meeting before Christmas.
It came to light on an internal Department for Education (DfE) blog by its director of finance and commercial.
The DfE said the cuts being discussed were general savings, not job cuts.
In the blog, Simon Judge wrote: "We did an exercise with party hats that I was not allowed to photograph. We all had to say what we were stopping, as part of the DfE Review, and we could then take our hat off."
The department is currently attempting to cut its budget for administration in half and is aiming to cut about 1,000 jobs - about one in four - between now and April 2016.
'Clear and deliberate ridiculing'
In a letter to the Department for Education's most senior civil servant - Permanent Secretary Chris Wormald - the PCS union's Education Group Secretary Kathy Prendiville said: "It is hard to understand how a group of such senior civil servants could consider it appropriate to make a game out of 1,000 job losses.
"The Christmas period is no excuse for such a monumental loss of judgement on your part as virtually every member of staff in the department faced a Christmas of anxiety and worry for themselves and their families given the radical plans for restructuring that are underway."
In reply, the department said: "Directors were asked to propose how they would remove inefficiencies in systems/processes and to reduce bureaucracy in their areas. The item was not, as you (sic) letter claims, concerned with staff reductions.
"The approach used for the item was designed to be engaging about a subject matter which whilst important is not sensitive. Had the item covered staff reductions, we would not have used that approach."
Union representatives were also angered that Simon Judge joked in his internal blog that he "could now get to all the DfE sites, with the exception of Darlington, on my canal boat".
The PCS trade union say some members of staff are being asked to work in different locations as a result of the cuts and Mr Judge's remarks were a "clear and deliberate ridiculing of our members' anxieties".
The department says it is "fully aware" of the impact the cuts in staff numbers is having on its employees.