Royal succession: Northern Ireland MPs want more debate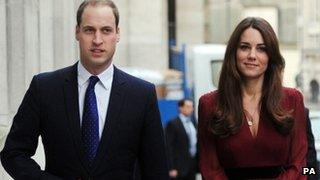 The DUP and the SDLP have both called for more time to debate legislation about the line of royal succession.
The government has introduced a bill which would end the principle of sons taking precedence over daughters as heirs to the throne.
It would also end rules barring the sovereign and prospective heirs from marrying a Catholic.
However, the current prohibition on the monarch being a Catholic would remain in force.
Under the 1701 Act of Settlement, women are superseded by their brothers in succession even if they are the first born.
Deputy Prime Minister Nick Clegg told MPs: "The current rules of succession belong to a bygone era. They reflect old prejudices and old fears. "
He also told the Commons: "Today we don't support laws which discriminate on either religious or gender grounds.
"They have no place in modern Britain and certainly not in our monarchy - an institution central to our constitution, to the commonwealth and to our national identity too."
'Pandora's box'
North Antrim MP Ian Paisley jnr argued that the line of succession had served the country well and said the planned changes could open up a "royal Pandora's box".
Speaking in the House of Commons, he called for more time to debate the planned changes.
He was joined by other MPs who said more scrutiny was needed.
Critics included the Conservative MP Jacob Rees Mogg who is Catholic. He argued it was an "insult to the nation and to our sovereign and indeed to parliament".
Labour's Paul Flynn said the bill's failure to address the prohibition of a Catholic monarch could actually "strengthen the prejudices of the past".
Mr Paisley referred to the opposition as a "papal prod pleb alliance" . He said he hoped such an alliance would be "listened to by this house".
The SDLP MP Mark Durkan, who described himself as Irish and not British, also said he too had concerns about the way the bill was being presented.
He welcomed the moves to end discrimination regarding female heirs, but said there were parts of the current law that he was "repulsed by".
He said the planned legislation was dealing with some forms of discrimination but ignoring others, notably the issue of a Catholic monarch.
He told MPs he was not coming to the house to act in a "subversive" way but was convinced that more time was needed to scrutinise the bill.
The proposed changes also need to be approved by the 15 other countries of which the Queen is head of state.
They agreed in principle to do so in 2011 .The bill is expected to return to the house next week for further debate.