DJ Fatboy Slim to play gig in House of Commons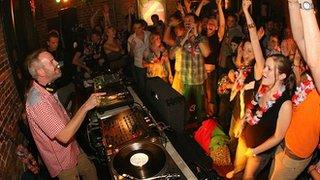 DJ and record producer Fatboy Slim is to play a gig in Parliament.
The artist will perform at the Terrace Bar of the House of Commons next month in support of an initiative which aims to raise awareness of community music.
He will spin discs alongside the winner of the House the House DJ competition, an event hosted by MP and former music executive Mike Weatherley which seeks to give a platform to new young talent.
The artist, aka Norman Cook, said the gig might be his "most unique to date".
Mr Cook began his career with The Housemartins in the 1980s and as Fatboy Slim enjoyed a string of hit records - including number one single Praise You - in the 1990s and early noughties.
'Give something back'
The gig on 6 March has been organised by the Last Night A DJ Saved My Life Foundation and will be hosted by House The House, a parliamentary charity which encourages 16-to-25 year dance enthusiasts to get more involved in their communities through grassroots initiatives and to raise awareness for local music projects.
"I've played some exciting and unique places around the world from Bondi Beach to The Great Wall of China to an igloo but playing in the House of Commons might be the most unique to date," Fatboy Slim said.
"Music is a huge part of my life and to give something back in this way is amazing."
Mr Weatherley, an intellectual property expert who worked for pop impresario Peter Waterman, before becoming MP for Hove and Portslade, said: "House The House is giving young people the chance to have a voice, to be recognised for their endeavours and to engage with their communities to create change from the grassroots up."