UK welcomes Obama announcement on drawdown of troops from Afghanistan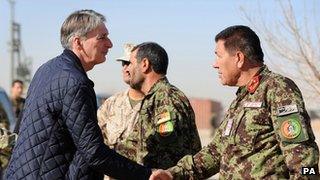 Defence Secretary Philip Hammond has welcomed President Obama's announcement of a substantial drawdown in US troops from Afghanistan over the next year.
Half of all US personnel, 34,000 overall, will leave by this time next year ahead of the departure of all Nato combat troops by the end of 2014.
The UK has said its own troop numbers will be almost halved over the course of this year to 5,200.
Mr Hammond said Afghan forces were increasingly confident and capable.
President Obama made the troop reduction announcement in his State of the Union address to Congress.
'Full responsibility'
He said al-Qaeda was "a shadow of its former self" but continued help would be needed to train and equip Afghan forces to ensure the country did not "slip into chaos" after foreign troops left.
"I welcome the US announcement on force levels in Afghanistan, which reflects our own drawdown plans and those of our partners," Mr Hammond said.
"As we announced in December, UK force levels will reduce from the current 9,000 to around 5,200 by the end of this year.
"This is in line with the steady progress of the Afghan National Security Forces as they move towards assuming full security responsibility in Afghanistan by the end of 2014."
The UK has signalled that the pace of troop withdrawal could be accelerated if better-than-expected progress is made in readying domestic security services to take control.
Mr Hammond, who visited Afghanistan last week, said Afghans were now taking the security lead in areas covering 75% of the population.
"Afghanistan will continue to face challenges in the years ahead and we are committed to supporting the Afghan government, through funding to the national security forces and through development assistance, after the combat mission ends," he said.
During talks with Afghan President Hamid Karzai last week, Prime Minister David Cameron reiterated his calls for further progress to be made in reaching a political settlement, including elements of the Taliban committed to a peaceful and stable future for the country.