Energy Secretary Ed Davey hails his 'green' door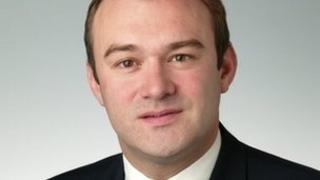 Climate Change Secretary Ed Davey has revealed his own efforts to go green at home: buying a "super-efficient" boiler and replacing his front door.
The Liberal Democrat told the Mumsnet website he had done "not enough", but promised to do more to reduce his environmental impact.
The electrical appliances he bought had to be labelled energy-saving too, Mr Davey said.
He also disclosed that he did not find cabinet colleague Vince Cable "cuddly".
The government says that making front doors more efficient, either by replacing with new models or improving insulation, is a good way to cut gas and electricity bills.
It estimates that 38% of the UK's total greenhouse gas emissions come from leaky buildings.
During the webchat, Mr Davey said: "A couple of people have asked about what I've done to save energy... Not enough - yet!
"I did replace my front door last year, which was leaking energy, and when we bought a new boiler two years ago, I researched hard and got a super energy efficient boiler - plus I now try to ensure the electric appliances I buy are labelled at least A (very energy efficient) or ideally A+++, (super energy-efficient)."
Mr Davey added that he was going to take up the government's Green Deal, under which households can use loans to spend on energy-saving improvements, such as insulation and new boilers, with no upfront cost.
The loans will be paid back through electricity bills for a period of up to 25 years.
But critics say there is no guarantee that the eventual bill savings from improved efficiency will match the cost of the loans they take out.
One Mumsnet reader, called amazingmummy, asked of Mr Davey's fellow Lib Dem: "Is Mr Cable really as cuddly as he seems on TV?"
He replied: "That's not quite how I see him - but he does have a wicked sense of humour."