Tax avoidance: New rules for Whitehall contract bidders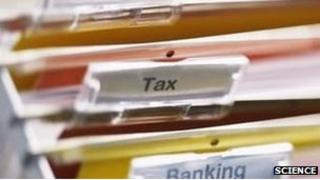 Companies involved in failed tax avoidance schemes will be banned from bidding for government contracts, under new rules published on Thursday.
Firms bidding for contracts of £2m or more will have to declare whether they have fallen foul of wide-ranging tax avoidance rules in the past 10 years.
The move is designed to deter tax avoidance and evasion by companies bidding for public contracts.
The changes, announced by the Treasury, will come into effect in April.
Potential suppliers will be required to notify departments if any tax return has been found to be incorrect as a result of a successful challenge by Revenue & Customs, and of any involvement in a failed tax avoidance scheme.
Firms will also have to sign a clause in contracts allowing departments to terminate the agreement if they are later found to have breached tax compliance obligations.
The plans were announced in a written ministerial statement to Parliament, by Chief Secretary to the Treasury Danny Alexander.
Mr Alexander said: "These new rules are another significant tool as they will provide a framework to enable government departments to say no to firms bidding for government contracts where they have been involved in failed tax avoidance."
The move comes after controversy over the UK tax affairs of major companies like Starbucks, Amazon and Google. There is no suggestion these firms would fall foul of the new arrangements.
Some estimates suggest tax avoidance could be costing the UK Treasury up to £100bn a year.