Lord Rennard: Lib Dem 'regret' over complaint handling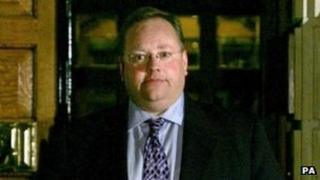 The Liberal Democrats have expressed "regret" over the handling of strongly-denied claims of sexual impropriety towards women by a senior party figure.
The party said it "appears that we did not fully live up" to its "political ideals" when handling complaints about Lord Rennard.
He says he is "angry" about the allegations, shown on Channel 4 News.
Lord Rennard said he knew of no complaints against him in his 27 years working for the Lib Dems.
But he has temporarily stood aside from the Lib Dems in the Lords to avoid "embarrassment" to the party.
The Lib Dems have launched a review of how it handles allegations of harassment.
Allegations denied
On Thursday, Channel 4 News aired allegations by two women of sexual impropriety over several years by Lord Rennard, the party's former chief executive,
The women told the news programme he abused his position for years by inappropriately touching and propositioning them.
One of them said she had spoken to two senior party figures about her claims, but claimed no action was taken.
Allegations from more women were broadcast on Friday.
Lord Rennard - a key party strategist and adviser to a succession of Lib Dem leaders before standing down due to ill health in 2009 - has said he is "deeply shocked" by the allegations, which he "strongly disputes" and regards as a "total distortion" of his character.
The latest statement issued on behalf of the Lib Dem peer, who has been overseeing elections in Armenia, said: "I absolutely deny any suggestion of improper touching, nor did I invite a woman to join me in my room.
"I note that these alleged instances supposedly took place in public bars with other people present. I am disappointed and angry that anonymous accusations from several years ago are once again being made public in this manner in a clear attempt to damage my reputation.
"Let me reiterate that in 27 years working for the Liberal Democrat Party, not a single personal complaint was ever made against me to my knowledge."
The original Channel 4 report alleged that some of the women had reported the allegations to figures in the party but it was not taken any further or their claims were not taken seriously.
Lib Dem chief executive Tim Gordon, who was asked by party leader Nick Clegg to conduct an immediate review into the party's procedures for dealing with allegations of harassment, has posted on the Lib Dem Voice website, saying many members would have seen media reports about the allegations and suggestions that they had not been dealt with adequately.
Thorough investigations
"It appears that we did not fully live up to our political ideals, and I regret that," he wrote.
Mr Gordon said he wanted to assure the party that it was "taking these questions very seriously", both regarding the specific allegations that were made, and also about "the party's procedures for handling complaints of this sort".
He said a five-strong panel of party figures - including at least three women - would be assembled to conduct a "thorough and in-depth" investigation into the allegations levelled against Lord Rennard.
"We will not tolerate harassment in this party," said Mr Gordon.
"You have my assurance that no one who comes forward will be victimised for raising complaints or coming forward with evidence and we reaffirm not only our commitment to equality provisions but also to taking appropriate disciplinary sanctions against any employee or member who is found, following due process, to have engaged in harassment or impermissible discrimination."
An internal investigation into the specific allegations raised by Channel 4 News has also begun under the party's disciplinary procedures, the party has said.
Lib Dem president Tim Farron is also conducting a review into the way the party has dealt with such allegations in the past.