Lord Rennard case: Met to look at claims against ex-Lib Dem chief executive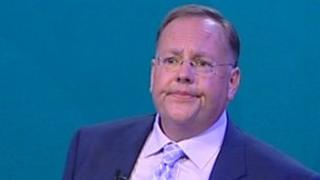 Scotland Yard says it is looking at "whether or not criminal activity has taken place" after claims of sexual impropriety by former Liberal Democrat chief executive Lord Rennard.
In a statement on its website, the Met said its Specialist Investigations Command had been "approached by officials in the Liberal Democrat Party following recent media reporting".
A number of women have accused the peer of sexually inappropriate behaviour.
Lord Rennard denies the allegations.
BBC political correspondent Ross Hawkins said Labour MP John Mann had made a complaint to the police about Lord Rennard's behaviour.
A meeting will take place on Tuesday between the police and Lib Dem officials, our correspondent added.
'Deeply shocked'
Lib Dem deputy leader Simon Hughes told the BBC that the police announcement was "compatible with what we want to do which is to make sure that nobody thinks that we're trying to hide anything.
"We're not, we're an open and transparent party."
The Lib Dems are now conducting two inquiries - one into the specific complaints against Lord Rennard, which will be chaired by Alistair Webster QC, a criminal lawyer and former head of the Lib Dem Lawyers Association, and the other - which will be independently chaired - into how the allegations were handled in the past.
But Mr Hughes warned: "There's a real danger that some people with a vested interest in some parts of the press... are seeking to build this up all the time, to pretend other things are happening to make it into a story that just keeps going.
"We understand the score, there's politics here."
He added: "We're not going to be playing politics with this at all."
The Lib Dems are preparing to defend the seat of Eastleigh in Hampshire on Thursday, in a by-election caused by the resignation of Chris Huhne.
Two women told Channel 4 last Thursday that Lord Rennard had abused his position by inappropriately touching and propositioning them.
One of the women said she had spoken to two senior party figures about her claims, but said no action had been taken. Allegations from more women were broadcast on Friday. The incidents are alleged to have taken place between 2003 and 2007.
Lord Rennard, who was also a key strategist and adviser to a succession of party leaders, said he was "deeply shocked" about the allegations and said they were a "total distortion" of his character.
'Screwed up'
The peer said he knew of no complaints against him in his 27 years working for the party, but he has temporarily stood aside from the Lib Dems' group in the Lords to avoid "embarrassment" to the party.
Nick Clegg, who became party leader in December 2007, said none of the women concerned, including one who worked in his office, had raised specific allegations with him personally at the time and he had not known about the specific allegations until the Channel 4 broadcast.
He said he had acted on "general concerns" expressed about Lord Rennard's conduct in 2008, when his then-chief of staff Danny Alexander warned the peer that any such behaviour was "wholly unacceptable" and Lord Rennard "categorically denied" that he had acted inappropriately.
But party president Mr Farron said the Lib Dems needed to "look at itself" as a party and how it handled the concerns when they were first raised.
"The one thing I probably can tell you without going through due process is that we screwed this up as a party," he told the BBC Radio 4 Today programme.