John O'Farrell: Labour 're-invigorated' in Eastleigh by-election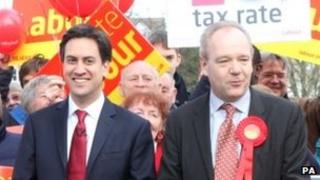 Labour's candidate in the Eastleigh by-election has said the campaign has "re-invigorated the Labour party in an area where we're not very high-profile".
John O'Farrell told the BBC the contest was a "two-horse race between Labour and the coalition".
He predicted that his party would "do really well".
Mr O'Farrell added: "Labour has never held this seat, and it will be a fantastic achievement if I am elected MP for Eastleigh on Thursday."
Campaigning for the Hampshire seat vacated by former Lib Dem cabinet minister Chris Huhne is into its final stage.
'Explaining'
Mr O'Farrell said a vote for either the Lib Dems or the Conservatives would result in "exactly the same policies", adding: "We're the alternative. I'm the opposition, and I think more and more people are coming to Labour."
There were large numbers of undecided voters, he said.
"These seem to be disillusioned former Liberal Democrat voters, and it's just a question of us getting to them and explaining to them that if they vote Liberal Democrat they're actually voting for the Conservative coalition," Mr O'Farrell said.
People he had met in the constituency "distrusted" Lib Dem leader Nick Clegg after his U-turn on tuition fees, the Labour candidate said.
They were told to "vote Liberal and you'll keep the Tories out - and they found that that put the Tories in", he added.
Prime Minister David Cameron, Labour leader Ed Miliband and UKIP leader Nigel Farage have all visited the constituency since the campaign began. Labour came third in the constituency at the 2010 general election.
The list of candidates in alphabetical order is:
COLIN BEX - Wessex regionalists
DAVID BISHOP - Elvis Loves Pets Party
JIM DUGGAN - Peace Party
RAY HALL - Beer, Baccy and Crumpet Party
HOWLING LAUD HOPE - Monster Raving Loony William Hill Party
MARIA HUTCHINGS - Conservative
DIANE JAMES - UK Independence Party
DR IAIN MACLENNAN - National Health Action Party
KEVIN MILBURN - Christian Party "Proclaiming Christ's Lordship"
JOHN O'FARRELL - Labour
DARREN PROCTER - Trade Unionist and Socialist Coalition
DANNY STUPPLE - Independent
MIKE THORNTON - Liberal Democrats
MICHAEL WALTERS - The English Democrats - "Putting England First!"