Syria crisis: UK to increase support for opposition forces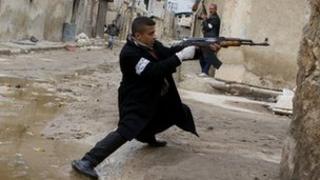 The UK is to increase the amount of logistical, technical and humanitarian assistance it is giving to opposition forces in Syria, ministers have said.
Foreign Office minister Hugo Swire told MPs more needed to be done to protect civilians and help save lives.
All options for "non-lethal" help were on the table for dealing with the "deteriorating" situation, he told MPs.
Tory MP John Baron said the prospect of arming forces opposed to President Bashar al-Assad was "on the agenda".
An EU arms embargo on both sides in the conflict has been extended for a further three months but critics have said this has made little difference to curbing the bloodshed. An estimated 70,000 people are believed to have died in the two-year conflict.
Speaking on Sunday, Mr Hague said the UK could not rule out providing arms to the Syrian opposition in the future as the situation in the country was "too dangerous to the peace and security of that entire region, and thereby to the world" to be ignored.
'All necessary assistance'
Mr Hague is to give more details of increased backing for Syrian opposition, including the provision of additional "non-lethal equipment", on Wednesday.
In November, the UK recognised Syrian opposition groups as the legitimate representative of the people and two months later gave them a further £9.4m in communications, technical and humanitarian support.
But answering an urgent question in the Commons, Mr Swire said the government, with the US and the EU, believed more needed to be done to help those made homeless by the violence and the millions needing humanitarian assistance.
"We must do more to try and help save lives in Syria," he said.
The international community was committed to providing "all necessary assistance" to protect civilians, he added, and needed "maximum flexibility" to respond to worsening events on the ground.
Mr Baron, a critic of the international community's involvement in the Middle East and North Africa, said the UK's thinking on the issue of the arms embargo had clearly evolved and the possibility of supplying arms was now "definitely on the agenda".
Direct intervention on one side in what was a civil war could only "escalate the violence in the short term and the suffering of the people", he warned.
In response, Mr Swire urged those who he said were arming the government of President Assad to stop doing so.
President Assad has accused Britain of bullying and naivety and said foreign Islamist terrorist groups are responsible for many of the worst atrocities of the conflict.