Iain Duncan Smith: Germany 'woken up at last' on EU migration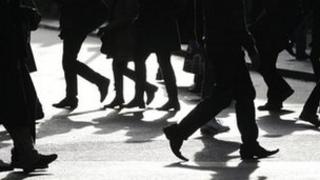 The UK is to meet Germany and "a series of European nations who share our concerns" over introducing curbs on "benefit tourism", Work and Pensions Secretary Iain Duncan Smith has said.
"Germany has woken up at last to the reality that they may face a large net migration," he told MPs.
The aim was "to lock people out from coming here solely for the purpose of claiming benefits", he added.
But Labour's Frank Field said ministers' ideas were "ineffective".
The work and pensions secretary had been summoned to the House of Commons to answer an urgent question from Mr Field, a former Labour minister, on the removal of restrictions on Bulgarian and Romanian people's right to do some jobs within the EU.
"What we're trying to do is to figure out the rules that allow us to prevent individuals from staying in the UK for only a short time before claiming benefits, a rule that existed under the last government," he said.
"There are many nations in Europe who are just as angry about this as we are and we have been meeting them since last summer."
'Orwellian'
He told MPs: "We are down to meet [Germany] and others around the EU to try and make sure that we deal with this."
The UK government was attempting to change the rules on who is entitled to claim benefits in the UK, he said, for example by examining claimants' leases to establish how long they planned to stay in the country.
But it was facing a legal challenge from the European Commission, "due to the fact that our habitual residence test says people must prove they live here habitually before they can get benefit access", Mr Duncan Smith said.
"It would be strange to me that if you have a habitual residence test that anybody should be surprised that one of the tests you want to place is that they should live here habitually.
"But we do sometimes live in that George Orwellian political language world, and I must say the Commission does seem to foster that with great alacrity."
He said the UK was seeking to challenge the current legal definition of habitual, which was "very narrow and short-term" and did not include a timescale within it.
But Mr Field predicted that the secretary of state's proposals would fail to deal with the current "crisis", for which both the current and predecessor governments were to blame.
Universal credit - the government's flagship plan to reform the benefits system - could even make it easier for EU migrants to claim benefits, he warned.
'Chaotic'
Transitional arrangements, in place since Romania and Bulgaria joined the EU in 2007, will end on 1 January 2014.
"As there are already 150,000 Romanians and Bulgarians here quite legally, and they are arriving here at 25,000 a month or more, do you not accept that the answer you have just given us will somewhat prove ineffective against the movement that might well come after 1 January?" he asked Mr Duncan Smith.
Labour frontbencher Stephen Timms argued that Mr Duncan Smith's plans to tighten the rules on claiming benefits would make the implementation of universal credit even more "chaotic".
Ministers have previously said they are looking to limit access to benefits, health care and housing for EU migrants, but the detail of how changes might differ from current rules is not yet clear.
Downing Street has said the curbs are being considered in response to "widespread public concern". The measures would be announced in due course, a spokesman added.