Public Accounts Committee criticises 'ill-thought through' spending cuts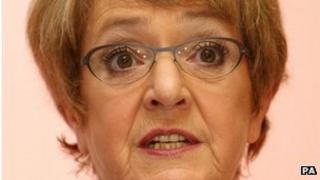 An influential group of cross-party MPs has criticised the government's approach to cutting public spending.
The Public Accounts Committee said some spending cuts had been "ill thought-through" and criticised a lack of joined-up thinking across government.
Committee chairman Margaret Hodge said the 2010 Spending Review had focused on what could be cut quickly, rather than the likely impact of cuts.
A Treasury official said the committee had "chosen headlines over hard facts".
Ms Hodge, a Labour MP, said: "The government does not fully understand the impact of the spending cuts it is making. It is focusing on short-term priorities rather than the longer-term view."
'Protecting their turf'
The committee's report drew attention to the decision to cut spending on capital projects from £60bn to £38bn in real terms, some of which was later reversed by the chancellor.
It also found staff numbers at the UK Border Agency had been cut "too quickly", causing a backlog of immigration case work which resulted in some of the employees having to be re-hired.
Chancellor George Osborne announced average cuts of 19% to Whitehall departments in his Spending Review in 2010.
Certain budgets have been ring-fenced, including those for the NHS, schools and overseas aid.
The committee said this had constrained the chancellor, and meant other departments - which account for 40% of the government's day-to-day spending - had to bear the brunt of cuts.
The report also found there was "no evidence of clear thinking" on how a decision to save money in one budget area might have a knock-on effect on costs elsewhere.
It said the Treasury should "incentivise departments" to work together on cross-government issues, claiming that too often ministries "concentrate on their own self-interest, protecting their turf".
Ms Hodge said the Treasury needed to "up its game" to ensure proper scrutiny of departments' spending plans,
A Treasury spokesman said the government's departmental spending plans had "come in exactly on forecast since 2010".
"Even the NAO [National Audit Office], whose report was the basis for this, said 'government budgeting compares well with budgetary practice'."
The spokesman added: "Long-term planning is at the heart of the government's capital plans which set out a long-term infrastructure pipeline worth a total of £310bn, and includes major projects which will be delivered over the next few decades."