EU's women boardroom plan introduced too soon, say MPs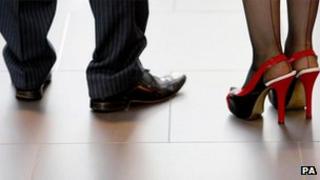 European Union plans to increase the number of women directors of companies have been rushed in without looking in enough details at the consequences, a committee of MPs has said.
The Commons European Scrutiny Committee said Brussels had decided "too soon" that individual governments were not doing enough to improve the situation.
UK ministers oppose having "quotas", saying they could undermine women.
But the EU argues that setting Europe-wide targets will aid economic growth.
A draft directive has yet to be approved by a majority of the 27 member states.
If it gets through, it would mean Stock Market-listed companies with at least 250 staff have to reserve at least 40% of non-executive board seats for women by 2020, or face fines.
'Stronger evidence'
The EU argues this will improve corporate governance and improve economic performance across the continent.
It says that, as of January last year, the Europe-wide figure for women in boardrooms was just 13.7%, and that individual governments would not necessarily do enough to ensure change if left to act alone.
It says the UK figure would rise to just 17% by 2020 if it did not become involved.
But the committee questions whether there was "sufficient justification" for the draft directive, as existing national initiatives had not yet been given enough time to work.
The committee says: "It was too soon to conclude that member states were unwilling to act individually, or that the measures they introduced at a national level would be ineffective."
The MPs also argue that the EU's "business case" means it is in individual countries' own interest to secure a "competitive advantage" by getting more women on to boards.
And they are calling for a "stronger evidence base" for the figures presented.
The MPs heard from equalities minister Jo Swinson, who said separate research suggested that "if the current pace" of increase were maintained, 37% of FTSE 100 company board members would be women by 2020.
Several countries, including France, Italy, Spain and the Netherlands, have introduced targets, but the UK government has said it is "opposed to legislation for quotas".
Ministers say firms should aim to have at least one female director for every three men by 2015, but no specific target has been set.
Germany also opposes the EU directive, outlined by European Commission Vice-President Viviane Reding in November.