MP David Lammy apologises for BBC Pope race 'innuendo' claim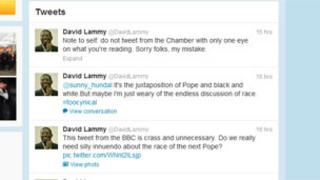 A Labour MP has apologised for claiming the BBC made a "silly innuendo about the race" of the next Pontiff.
David Lammy was commenting on a BBC Twitter message, which asked "will smoke be black or white?".
Mr Lammy, tweeting from the Commons chamber, said the BBC message was "crass and unnecessary".
He later apologised after Twitter users pointed out the role played by black and white smoke in announcing the election of a new Pope.
White smoke traditionally emerges from a Vatican chimney to signify a new pontiff has been chosen.
The appearance of black smoke above the Sistine Chapel means no decision has been reached, as happened on Tuesday.
Mr Lammy was responding to a message on the BBC News World twitter feed, which provided a link to live coverage of the Vatican chimney, which said: "LIVE VIDEO: Chimney of Sistine Chapel as conclave votes for #Pope - will smoke be black or white?"
"This tweet from the BBC is crass and unnecessary," he wrote. "Do we really need silly innuendo about the race of the next Pope?"
But after receiving dozens of messages pointing out his error, he tweeted again: "Note to self: do not tweet from the Chamber with only one eye on what you're reading. Sorry folks, my mistake."
There has been speculation that Cardinal Peter Turkson of Ghana or Cardinal Francis Arinze of Nigeria could become the first black Pope of the modern era.