Syria: Arms embargo relaxation would ease distress, says Hague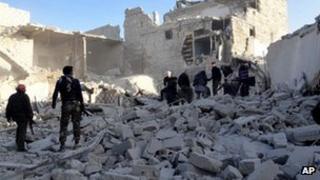 A failure to supply weapons to rebel fighters in Syria would add to the risk of "extreme humanitarian distress" in the country, William Hague has warned.
The foreign secretary said movement of arms would have to be "very carefully controlled" to prevent them getting into the hands of extremists.
But the government had to "weigh some risks against other risks", he added.
The prime minister has urged the European Union to end its embargo on arms supply to Syria.
Currently the UK is sending "non-lethal" equipment to help the forces opposed to President Bashar al-Assad, but they have requested further assistance.
Up to 70,000 people have been killed in Syria and a million refugees have fled the country since the crisis began two years ago.
The latest UN figures show that two million have been internally displaced, while 400,000 have fled abroad since the start of the year, with the largest number seeking shelter in Jordan, Lebanon, Turkey, Iraq and Egypt. The UK has provided £139m to help run refugee camps.
'Worsening'
Asked about calls, led by France and the UK, for the EU to drop its embargo and allow the supply of arms to the rebels, Mr Hague told Sky News: "If we did that it would have to be very carefully controlled in terms of what we would actually send, how we would monitor what was sent and the guarantees that would be needed from the people they were sent to.
"There are risks, of course, which is why we haven't so far sent lethal equipment to the opposition. But if this crisis goes on worsening in the way that it is in the coming weeks and months, there are even greater risks that have to be weighed against that: the risks of international terrorism and extremism taking root in Syria; the risks of Lebanon, Iraq, Jordan being destabilised; and the risks of extreme humanitarian distress.
"As ever in foreign policy, you have to weigh some risks against other risks."
Prime Minister David Cameron has warned the UK "might have to do things our own way" if it fails to secure a relaxation of the EU embargo at a meeting in May.