Lib Dem minister Norman Baker releases pop single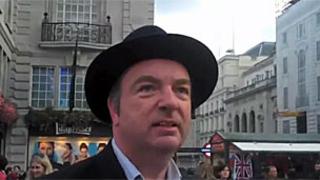 Junior Transport Minister Norman Baker has released a pop single with his band The Reform Club.
The 55-year-old Lib Dem MP co-wrote Piccadilly Circus and appears in a video for the song, sporting a black trilby and open-necked shirt.
Mr Baker, who fronts the four-piece band, plans to follow up the single with an album, Always Tomorrow.
The single is an upbeat number about tourists and tramps at the famous London landmark.
It includes the cautionary words "don't get caught under flashing neon signs in recessionary times" but otherwise eschews political comment.
But that has not prevented it receiving a critical mauling, with the Daily Telegraph's Neil McCormick calling it "banal, obvious and utterly pedestrian".
"Norman Baker's song exposes him as a bit of a naive dreamer, with the pop instincts of a civil servant," says McCormick.
"We all just have to hope his political skills are better than his musicianship."
Mr Baker, MP for Lewes, in Sussex, defended his decision to get into the pop business, saying: "Music has always been very important to me.
"That's what I like to do when I go home and switch off the day job."
He told BBC Radio 4's Today programme he had played in bands since the 1990s and "had always wanted to make a studio album".
The MP was previously best known for his book on the death of Dr David Kelly, in which he claims the weapons scientist did not take his own life.