PCC: Electoral Commission criticises elections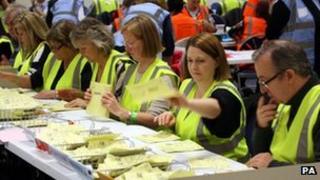 The government has been criticised for believing that "simply holding" elections for police and crime commissioners (PCCs) was enough to inspire people to vote.
An inquiry by the Electoral Commission found 80% of voters felt they did not have enough information to make an informed choice.
It recommended significant changes before the elections are next held.
The Home Office said PCCs had a "bigger mandate" than police authorities.
But Labour demanded an apology from the home secretary for the "serious failings" her department made in holding the "shambolic" elections.
The elections of 41 PCCs, which replaced existing police authorities in England and Wales but not London, were marked by a turnout of just 15% - a peacetime low.
This prompted the Electoral Commission inquiry.
'Candidate information'
It found more than a third of those who did not vote blamed a lack of awareness, while nearly half of all Britons did not know "very much" about the elections.
More than a quarter of people said they knew "nothing at all" about the PCC elections, while 55%, found it difficult to access information about the candidates.
Electoral Commission chair Jenny Watson said: "There were many different reasons why people didn't vote last November and like any election there's a limit to how much these can be addressed by decisions government can make.
"But one of them was not knowing about the candidates and something can be done about that.
"It's not enough to think that simply holding an election will inspire participation. That's why at the 2016 PCC elections a candidate information booklet must be sent to every household."
The Commission also criticised the government for passing legislation needed to hold the election too close to polling day.
It recommended that for any new elections, ministers should make clear at the time of introducing legislation how they will ensure that electors have appropriate access to information about candidates.
Ms Watson added: "Elections are a cornerstone of our democracy. It's vital that the rules surrounding them are clear, workable and in place in good time.
"The rules for these elections were confirmed unacceptably late, causing confusion for candidates and electoral administrators.
"The Home Office doesn't have experience in preparing for elections and they need to be better supported in future by the parts of government that do."
'Serious failings'
Amongst candidates wanting to become PCCs, the Commission said nearly half found it difficult to get the 100 signatures required for their nomination to stand - this compares to only 10 needed for a parliamentary election.
And 39% of candidates said it was difficult to raise the £5,000 deposit required for their nomination, which compares to a £500 deposit for parliamentary elections.
A Home Office spokeswoman said: "More than five million people turned out to vote for the first ever election of PCCs, giving them an infinitely bigger mandate than the unelected and invisible police authorities they replaced.
"As the Electoral Commission notes, turnout at the next... elections is likely to be higher because they will take place alongside other leading polls and people will be more aware of the impact PCCs are making to deliver on public priorities in tackling crime."
But David Hanson MP, shadow minister for policing, said the "report shows clearly just how incompetent this government has been".
"The home secretary needs to get a grip and apologise for the serious failings her department made in holding these elections, and offer genuine guarantees to ensure it cannot happen again," he added.
PCCs will be in post until 2016 and will have the power to set policing priorities, budgets and also to hire and fire chief constables.