Date of 2014 local elections may change after EU switch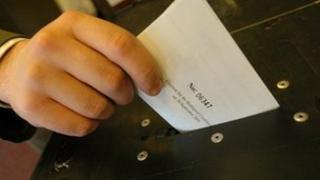 Ministers are consulting on changing the date of the 2014 local elections in England from 1 May to 22 May so they take place on the same day as the European Parliament elections.
Holding the two sets of elections on the same day is said to boost the chances of people voting, and will also save an estimated £10m in costs.
The European elections had been due to be held on 5 June, but they are set to be brought forward to 22 May.
There are 160 council elections due.
The consultation paper from the Department for Communities and Local Government also notes that combining elections can cause confusion for elections, especially given the different electoral systems being used.
It is looking for views until 13 May 2013.
The government says that if it decides, following the consultation, to change the date of the local elections it would need Parliament's approval by the end of October.
In 2014 the local elections in England will see 67 shire district councils, 18 unitary district councils, 36 metropolitan district councils electing a third of councillors, plus elections for all of 32 London boroughs.
There will also be elections for directly elected mayors in Hackney, Lewisham, Newham and Tower Hamlets.
The Council of the European Union has suggested moving the date of the European elections from 5-8 June to avoid it clashing with the Pentecost holiday.