Lords defeat 'won't change home extensions plan'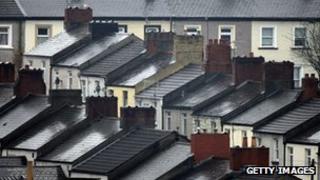 A consultation on plans to double the maximum size of home extensions in England will continue despite a defeat on the issue in the House of Lords.
Peers voted to give individual councils the power to reject a three-year relaxation of the rules.
Conservative Lord True, who put forward the amendment, called the coalition's home-extensions proposal "ludicrous".
The government, which argues the change will boost construction, said the defeat "doesn't change" its position.
Ministers announced last year that they were considering a three-year relaxation of the maximum depth of single-storey extensions from four metres to eight metres for detached houses and from three metres to six metres for other houses.
A consultation is currently going on, with a view to new rules being brought in.
'Powerless'
The proposal has angered some local authorities and is opposed by Labour.
During a Lords debate on some separate legislation - the Growth and Infrastructure Bill - on Tuesday, Lord True, leader of Richmond Council, introduced an amendment.
It called for local authorities to be given the option of rejecting the planning rules for extensions in the event of their being adopted at a national level.
Lord True told peers: "The government has suggested a world where in close suburban neighbourhoods people can put up a six-metre or eight-metre back-garden extension and people in the house to which they may be attached have no right to a say or to object.
"It is not hard to imagine the shock and dismay that some people will feel if they ever find out that is happening to them.
"They will feel powerless and they will feel angry. This proposal is not about growth - it is ludicrous to argue that a few back-garden extensions would kick-start the economy."
Lord True said the plan transferred powers and rights "from those who lose directly from any development and adds to the gain of the richer and more assertive who gain anyway".
Peers voted by 217 to 211, a majority of six, in favour of Lord True's amendment to the bill, which passed its third reading stage and now returns to the Commons.
MPs could choose to remove the change, which could lead to a stand-off with the Lords.
Local government minister Baroness Hanham said the change in extension rules would "bring great benefits to individuals and help drive economic growth" and would be brought in via secondary legislation, which allows ministers to enact changes based on existing laws.
She said: "There are sufficient provisions already in place that where appropriate there can be local changes to national permitted development rights.
"I cannot accept Lord True's contention that local authorities should be able to take unilateral decisions as to whether they take up the national provisions which are not part of this bill but which we will be dealing with at a later stage."
A Department for Communities and Local Government spokesman said the consultation over extensions was ongoing and that the vote "doesn't change anything as far as that's concerned".