'Plebgate': Andrew Mitchell leak inquiry request kept 'under review'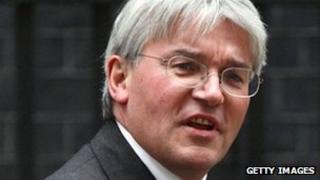 Demands by ex-cabinet minister Andrew Mitchell for an investigation into the alleged leaking of "plebgate" police reports will be kept "under review".
The Independent Police Complaints Commission said the Metropolitan Police's own inquiry was being carried out in a "robust and thorough" way.
Mr Mitchell had asked the IPCC to look into claims that the Met had leaked details of its own report to the press.
He denies claims he called officers in Downing Street "plebs".
Mr Mitchell resigned as government chief whip after the alleged comments were reported in the press last autumn.
He has said he will sue The Sun newspaper, which ran the original story on its front page.
'Public interest'
Mr Mitchell has also claimed the Metropolitan Police Service leaked details of its own report into the original incident to journalists.
He wrote to the IPCC last week, accusing the Met of a "dishonest and illicit attempt to blacken my name and destroy my career".
In her response, IPCC deputy chairman Deborah Glass says: "While I fully understand your concerns about these press reports, it appears to me that the public interest is best served by ensuring that the MPS [Metropolitan Police Service] are indeed carrying out a robust and thorough investigation into the initial incident and its aftermath.
"Should you wish to formally pursue your complaint in the meantime, I understand that DAC Gallan is happy to meet and discuss with you in the first instance, and I will keep the situation under review."
Friends of Mr Mitchell, the Conservative MP for Sutton Coldfield, said they were "quite happy" with the IPCC's comments, which they called "perfectly reasonable".
But they added that the complaint against the Met still stood.
So far four people - including three police officers - have been arrested as part of the investigation into the incident, which happened in September last year.
Initial reports had said that the former Conservative cabinet minister lost his temper and swore at police when they refused to open the gates for him as he cycled out.
Mr Mitchell admitted there had been an exchange and resigned from the cabinet - but denied directly swearing at any officers and denied using the word "pleb".
CCTV footage of the incident later cast doubt on the police reports.