Chris Huhne and Jonathan Aitken exchange letters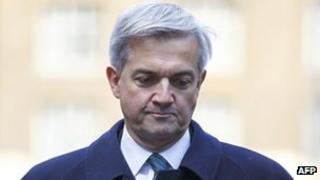 Chris Huhne, the ex-cabinet minister jailed for perverting the course of justice, has exchanged letters with disgraced former MP Jonathan Aitken.
Aitken, who spent seven months in prison in 1999 for perjury, spoke of the correspondence on Radio 4's Broadcasting House programme.
He said a letter from Lib Dem Huhne suggested he was "in good shape".
Huhne wrote that he found the first two jails he had been in "fascinating," said Aitken.
Huhne was jailed for eight months after admitting that he asked his ex-wife to take his speeding points in 2003.
His former wife Vicky Pryce was handed an eight-month sentence in March.
Speaking on Broadcasting House Aitken - a former Conservative cabinet minister - said he sent Huhne a book of psalms, along with a "cheerful" note, and received a "nice letter back".
"I think he said, 'I've now gone through Wandsworth and Leyhill and I've found them fascinating', which is a surprisingly positive adjective to use about a prison," said Aitken.
"I got the general impression from his letter that he was in good shape," he added.
Huhne - who was a journalist prior to embarking on a political career - resigned as energy and climate change secretary when he was charged with perverting the course of justice, and then quit as the Liberal Democrat MP for Eastleigh after pleading guilty.
Aitken said Huhne's letter contained a line which suggested that his "old journalistic curiosities had been much livened up by this experience and there are some good stories here".
Huhne, 58, and Pryce, 60, were charged last year over an incident in March 2003 when Huhne's BMW car was caught by a speed camera on the M11 between Stansted Airport in Essex and London. He was an MEP at the time.
Pryce falsely informed police she had been the driver of the car, so Huhne would avoid prosecution.
He was in danger of losing his licence, having already accrued nine penalty points.
Years later, Pryce went to a newspaper with the story after their marriage broke up.
The former Conservative minster said there had not been any suggestion of repentance in Huhne's letter.
"I wasn't expecting it. This was not a confessional correspondence, it was a cheerful correspondence. So there was no clue about repentance."
Asked about his motivations for entering into correspondence with Huhne, the former Conservative minister said: "If you've been through the prison experience you want to help people who are also going through it.
"It's perhaps a way of paying something back."