Thatcher funeral: Invitations and guest list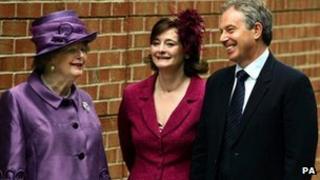 Further details of guests invited to attend the funeral of Baroness Thatcher at St Paul's Cathedral on Wednesday have been released.
The guest list has been decided by Lady Thatcher's family and representatives, along with the government and the Conservative Party.
It includes family and friends of Lady Thatcher and those who worked with her over the years, including members of her cabinets and representatives from a range of groups with which she was associated.
Those also invited include staff who worked closely with Lady Thatcher or who served her in some personal capacity, such as housekeepers who looked after her office in the Houses of Parliament.
Ten members of staff from the Ritz hotel, where Lady Thatcher was staying when she died, have been invited.
About 200 states, territories and international organisations have been invited to send an official representative.
Argentina's president has not been invited but the country's ambassador to Britain has. Downing Street says this is in keeping with diplomatic protocol for such occasions.
The Queen will lead the mourners with the Duke of Edinburgh.
St Paul's has a capacity of 2,300 and is expected to be full on the day.
Invitees include:
All surviving former UK prime ministers
All surviving former US presidents
Current US President Barack Obama
A representative of the family of former US President Ronald Reagan
Former US Secretary of State Hillary Clinton
All surviving members of Baroness Thatcher's cabinets
All of the current cabinet are expected to attend
European Commission President Jose Manuel Barroso
Baroness Thatcher's former press secretary Sir Bernard Ingham and Lady Ingham
A representative of Nelson Mandela
Author Frederick Forsyth
British Forces Foundation director Mark Cann
Archbishop of York, the Most Reverend John Sentamu
Falklands War veterans
Some of those who have confirmed their attendance include:
Prime Minister David Cameron
Former Prime Minister Tony Blair and wife Cherie
Former Prime Minister Gordon Brown and wife Sarah
Former Prime Minister Sir John Major
Former South African President FW de Klerk
Former US Secretary of State and Nobel Peace laureate Dr Henry Kissinger
Leader of the Opposition Ed Miliband
The first minister of Scotland, Alex Salmond
The first minister of Wales, Carwyn Jones
The first minister of Northern Ireland, Peter Robinson
Lord and Lady Archer
Chairman of the BBC Trust, Lord Patten
London Olympic chief, Lord Sebastian Coe
Baroness Thatcher's former foreign policy adviser Lord Powell of Bayswater
Former Foreign Secretary Lord Carrington
Canadian Prime Minister Stephen Harper
Former Canadian Prime Minister Brian Mulroney
Former US Vice President Dick Cheney and his wife Lynne
London Mayor Boris Johnson
Metropolitan Police Commissioner Sir Bernard Hogan-Howe
Former Conservative minister Michael Portillo and wife Carolyn Eadie
Former Czech President Vaclav Klaus and current Prime Minister Petr Necas
US politician Newt Gingrich
US politician Ross Perot
Former Australian Prime Minister John Howard and his wife Janette
Advertising executive and former Conservative Party chairman Lord Saatchi
Conservative donor Lord Harris and Lady Harris
Conservative peer, Baroness Trumpington
Former Commons Speaker, Baroness Boothroyd
Conservative peer, Baroness Bottomley
Press baron, Lord Beaverbrook
Former first minister of Northern Ireland, Lord David Trimble
BBC director general, Lord Tony Hall
Political commentator Sir Robert Worcester
Conservative Sir Malcolm Rifkind
Former Liberal Democrat leader, Sir Menzies Campbell
Labour MP Frank Field
Labour MP Keith Vaz
Conservative MP Peter Lilley
Conservative Lord Sterling of Plaistow
Lady Annabel Goldsmith, the widow of Referendum Party founder Sir James Goldsmith
Businessman and UK Independence Party treasurer Stuart Wheeler
Italian Prime Minister Mario Monti
Kuwait Prime Minister Sheikh Jaber al-Mubarak al-Saba
Polish Prime Minister Donald Tusk
Crown Prince Pavlos and Princess Marie-Chantal of the Hellenes
Sheikh Nasser Sabah Al-Ahmed Al Sabah, son of the ruler of Kuwait
Latvian Prime Minister Valdis Dombrovskis
Former Dutch Prime Minister Ruud Lubbers
Former Malaysian Prime Minister Mahathir Mohamad
Chief of the Defence Staff General Sir David Richards
Former head of the Army General Sir Mike Jackson
Field Marshal Lord Bramall
Marshal of the Royal Air Force Lord Craig of Radley
General Sir Peter Wall
Field Marshal Sir John Chapple
Air Chief Marshal Sir Stephen Dalton
Air Chief Marshal Sir Stuart Peach
Major General Ed Davis
Vice Admiral Sir Roy Newman
Broadcaster Sir David Frost
Broadcaster Sir Trevor McDonald
Broadcaster John Sargeant
Lyricist Sir Tim Rice
Actress June Whitfield
Actress Joan Collins
Broadcaster Sir Terry Wogan and Lady Wogan
Singer Dame Shirley Bassey
Broadcaster and journalist Jeremy Clarkson
Lord and Lady Lloyd Webber
Fashion designer Anya Hindmarch
Former Antiques Roadshow presenter Hugh Scully
Artist Michael Noakes
Writer William Shawcross
Lady Solti, the widow of conductor Sir Georg Solti
JCB chairman Sir Anthony Bamford
Senior civil servant Sir Alex Allan
Singer Katherine Jenkins
Web pioneer Sir Tim Berners-Lee
Broadcaster Andrew Neil
Actor Michael Crawford
Chef Marco Pierre White
Conservative Raymond Monbiot
Williams Formula 1 team boss Sir Frank Williams
Daily Mail editor Paul Dacre
Businessman Gerald Ronson and Dame Gail Ronson
Philip Woodhouse, Master of Grocers Hall
Michael Cox, Master of the Worshipful Company of Vintners
The Lord Grabiner QC, treasurer of the Honourable Society of Lincoln's Inn
Mark Wood, chairman of the NSPCC
Journalist Martyn Lewis
Businessman Sir David and Lady Tang
Stephen Boateng, of International Democrat Union
Former UK ambassador Sir Leonard Appleyard
Sir George Christie, chairman of Glyndebourne
Hotelier George Goring
Among those not attending:
Ronald Reagan's widow Nancy is understood to be too frail to travel
Former US Presidents George Bush Snr and George W Bush will not be attending
German Chancellor Angela Merkel will not attend and instead her government will be represented by Foreign Minister Guido Westerwelle
Former Soviet leader Mikhail Gorbachev will not be attending due to health problems
Downing Street has confirmed that Argentine President Cristina Fernandez de Kirchner will not be invited
Argentina's ambassador to London, Alicia Castro, has declined her invitation
Lord Kinnock - former Labour leader of the opposition - will not be present because of a commitment to attend the funeral of a former local councillor in Wales
Media mogul Rupert Murdoch was invited along with other newspaper proprietors but has indicated he will not be coming