Scargill 'makes brief response to Thatcher death'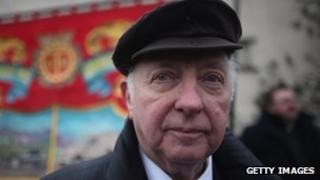 Arthur Scargill reacted to news of Baroness Thatcher's death by telling a friend he was "alive", it has emerged.
The miners' leader, whose battle with the former prime minister was one of the defining moments of her leadership, learnt of her death via a text.
Ken Capstick told ITV he texted Mr Scargill "Thatcher dead" and he responded instantly "Scargill alive".
Mr Scargill led a year-long strike of pit workers in 1984-5 as president of the National Union of Mineworkers.
He and other union leaders were controversially described as the "enemy within" by the then PM.
Speaking in the House of Lords on Wednesday, as peers paid tribute to Lady Thatcher, Lord Tebbit suggested Mr Scargill had expected to "bring down" her government. By confronting him and other union opponents she had helped to "preserve our democracy", the former Conservative chairman said.
But, in a parallel debate in the House of Commons, a series of Labour MPs spoke of the suffering and long-term damage done to mining communities by Conservative economic policies in the 1980s.
Michael Meacher said the former PM had "prepared for" an industrial conflict and "provoked" it.
Although Mr Scargill has not commented publicly on his former adversary's death, Mr Capstick, himself a former miner, told ITV about his reaction.
"I'd been talking to Arthur some 10 minutes earlier so I sent him a text message, a very short one, just said 'Thatcher dead'," he said. "I received one almost instantly saying 'Scargill alive!' and he's very much alive."
The funeral of the former PM, who died aged 87, will take place in London next Wednesday.