David Cameron upbeat on East Midlands economy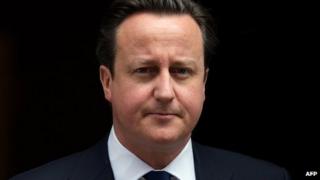 Who can blame him? When prime ministers feel the political heat of a slowing economy, they tend to head to Rolls Royce.
The Derby-based aero-engine works is something of a manufacturing comfort blanket for coalition politicians.
Two years ago, David Cameron took his entire cabinet to Rolls Royce. It was a symbolic move: manufacturing was back in political fashion.
Chancellor George Osborne talked about "The March of the Makers" - with expanded, revitalised private businesses creating the job opportunities lost in the public sector.
For the prime minister, it was about "rebalancing the economy".
Since then, coalition ministers have beaten a path to the UK's manufacturing Mecca in Derby.
Part-time jobs?
Two years on, Mr Cameron's return to Rolls Royce was a good opportunity to judge whether rebalancing an economy is like spinning plates. Some fly off, some wobble and others crash and smash into pieces.
"Here in the East Midlands, some 48,000 new private sector jobs have been created this year," the prime minister told me.
"This is good progress," he added .
But as Derby North's Labour MP Chris Williamson tweeted to me: "How many of those new jobs are part-time and low paid?"
At Rolls Royce, the prime minister need have no worries about the quality of the job opportunities.
The government's already committed £1bn to the so-called aerospace growth partnership over the next seven years. That is opening up gold-plated apprenticeships at Rolls Royce.
"The funding will help industries like Rolls Royce re-balance the economy. That's what we need," he added.
"Would I like to see it go faster? Do I want to see more manufacturing? Do I want to see more export success. Of course, I do."
According to the Office of National Statistics, UK manufacturing grew by 0.8 % in February. That's pretty sluggish. At least, it's better than the previous month when manufacturing output fell back by 1.9%.
But such high profile visits cannot be divorced from any political dividend, especially with weeks to go to the county council elections.
Four years ago, the Conservatives chalked up sensational results. The party snatched County Hall control from Labour in both Nottinghamshire and Derbyshire.
It was the first time the Tories were in power since the wedding of Charles and Diana in 1981.
The East Midlands swung heavily for David Cameron, and the region's voters delivered for him again in the General Election the following year. If the rest of England had followed suit, Cameron would be leading a majority Conservative government.
'Strong message'
But recession, a sluggish economy and the deficit reduction measures may have damaged the Tories' prospects this May. Labour has high hopes of retaking Nottinghamshire and Derbyshire.
So would the prime minister be disappointed to lose such key counties.
"We will fight for every seat and for every vote," he told me.
"We have a very strong message. We are on the side of hard-working families. We are keeping your council tax down and we are keeping your petrol tax down.
"We are also taking two million people out of tax altogether. Someone working in Derby on the minimum wage for a full working week, will have seen their income tax bill cut in half under this government."
If the county elections backfire for the Conservatives, the prime minister may be back in Derby looking for that comfort blanket.