Local elections: Farage predicts UKIP breakthrough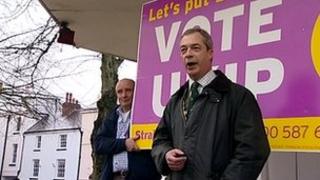 UKIP will "establish a bridgehead" in county councils across England and Wales at 2 May's local elections, its leader Nigel Farage has predicted.
The Eurosceptic party is aiming to capitalise on public concern over immigration, tax rises and wind farms.
It has traditionally done poorly in local elections but has gained more than 30 councillors through Tory defections in recent months.
A record 1,734 candidates are standing, just 22 fewer than the Lib Dems.
And with the UKIP riding high in national opinion polls, Mr Farage has predicted it will win seats in each of the 34 councils where elections are being held.
He has spent the past two weeks travelling in an open-topped bus, addressing packed meetings of supporters.
'Out of touch'
At the final tour stop, in Tunbridge Wells, Kent, he told supporters in the town centre UKIP was drawing support from across the political spectrum, not just disaffected Tory voters as the media assumed.
The reason for this, he argued is that the "three so-called main parties" were led by "out of touch bunch of college kids" who had "never done a day's work in their lives".
Mr Farage is keen to maintain the momentum generated by his party's best-ever Westminster by-election result, when it came a close second to the Lib Dems in Eastleigh last month.
UKIP's local election manifesto, concentrates on its flagship policy of ending "open door" immigration and putting pressure on the government not to lift restrictions on workers from Bulgaria and Romania on 1 January, which proved a successful formula in Eastleigh.
Speaking to the BBC in Tunbridge Wells, he said he had a simple message for voters: "Use 2 May as an opportunity to tell the government and tell the opposition that we don't want the door further extended to Bulgaria and Romania next year."
Wind farms
Thousands of Bulgarians and Romanians already live and work in the UK, under work permit schemes and there is fierce debate over how many more will make the journey when the final restrictions are lifted.
UKIP argues that youth unemployment is too high, and local services under too much strain, to accept any more new arrivals at this stage.
Mr Farage also stressed that UKIP councillors would focus on local issues such as keeping council tax bills down and opposing new wind farms.
If elected, UKIP county councillors would "oppose every single wind farm application".
The party is also committed to cracking down on crime and anti-social behaviour, getting more police officers on to the street and handing more power to local people through referendums.
It has also promised to crack down on councillors' expenses and limit housing developments on green belt land and "unwanted out-of-town supermarkets".
Mr Farage wants to build a powerbase in local government to help win seats at Westminster at the 2015 general election.
Some pundits believe the party is also on course to win next year's European elections, beating the Conservatives into second place.