No 10 denies Thatcher mourning 'ban on photographs'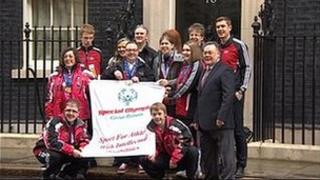 There is not a "blanket ban" on visitors to Downing Street having their pictures taken in front of the door to Number 10, officials have insisted.
A group of Special Olympians had been told they would not be allowed to take a souvenir snap.
Team GB Special Olympics skiing team chief Karen Wallin said an official told her it was "too sombre" an occasion after Lady Thatcher's death.
But officials changed their minds and allowed the team to pose for pictures.
A Downing Street spokesman said there had been a "misunderstanding".
The spokesman says it was decided earlier this week that it was "not advisable" to have visitors "standing on the steps of Number 10 with their thumbs up" while the world's media were broadcasting about the death of Lady Thatcher from the street.
But he insisted there was not a "blanket ban" on photos.
The seven athletes, who are all downhill skiers, had been attending an official reception at Downing Street after their success in the World Winter Games in South Korea.
After completing a tour of Downing Street, Ms Wallin told BBC News it was a "little disappointing" not to be allowed to take a picture of the team on the steps of No 10.
But she understood that the government was "in mourning" for Lady Thatcher, adding: "We have had some very nice photos inside today in one of the reception rooms."
She was then told that pictures would be allowed after all.