David Cameron 'proud to be British and English'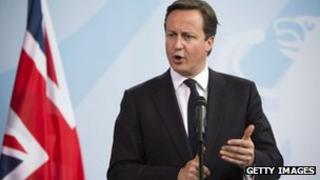 David Cameron has said he is "proud" to be both English and British as he marks St George's Day.
The prime minister sent his "best wishes" to people marking the celebration of England's patron saint.
But he added that it was important for the United Kingdom to remain a "family of nations", saying they would be stronger together than apart.
A poll suggests nearly three-quarters of English people want St George's Day to be a public holiday.
The date, 23 April, is also said to be the anniversary of the death of the playwright and poet William Shakespeare.
In a message, Mr Cameron said: "I send my best wishes to everyone celebrating St George's Day today.
"I think it's great that in recent years it has become more and more popular to mark St George's Day.
'Special day'
"I'm very proud to be English and I think it is important that people in England can celebrate St George's Day, just as other nations of the United Kingdom celebrate their patron saints' days.
"Today, England's national symbol - the flag of St George - will fly high over Downing Street, just as it will over public buildings, churches and schools all across England."
Mr Cameron added: "But as those of us in England mark this special day, so we also remain just as proud to be part of the United Kingdom - a family of nations that will always be stronger together than they ever would be apart."
His comments come as Scotland prepares to hold a referendum in September 2014 on independence from the rest of the UK.
Polling by YouGov for the IPPR think tank and Cardiff and Edinburgh Universities found 73% of English people wanted St George's Day to be a public holiday.
And nearly two in five people living in England said they considered themselves to be "equally English and British".
The proportion who regarded themselves as "more English than British" or "English not British" was 35%, compared with 17% who said they were "more British than English" or "British not English".
YouGov surveyed 3,600 English adults online between 23 and 28 November last year. The results were weighted to represent all English adults.