Ministers line up curbs on 'frivolous' judicial reviews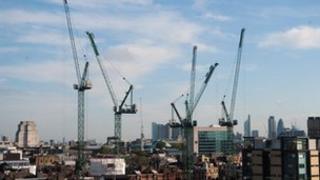 Ministers want new controls to tackle judicial reviews in English courts that they say needlessly hold up building projects and immigration decisions.
Applications for reviews, which seek to hold public bodies to account, rose from 6,692 in 2007 to 11,359 in 2011.
There will be a new fee for hearings in person when written applications are rejected and a new time limit to apply for planning decision reviews.
Pressure group Liberty said the plans were an assault on legal safeguards.
Individuals and organisations can seek a judicial review if they think a decision by a public body has been made unlawfully.
The review, carried out by a judge, looks only at the way the decision was reached, rather than whether it was correct or not.
The Ministry of Justice said that just one in six of judicial review applications between 2007 and 2011 was granted permission to proceed beyond the earliest stages, while the number that were ultimately successful fell from 187 to 144.
'PR purposes'
The vast majority of judicial review applications are immigration cases, with 8,734 such applications made in 2011, of which 607 were deemed suitable for a hearing. Thirty one were ultimately successful.
Ministers are concerned that judicial reviews, particularly in cases involving construction projects, are frustrating economic growth.
Justice Secretary Chris Grayling says judicial reviews are increasingly being sought for "PR purposes" and the proposed changes would weed out the "weak and frivolous" cases while still enabling genuine challenges.
New controls, expected to take effect this summer, include a £215 court fee for hearings in person after initial written applications have been rejected.
Where such applications are ruled as being totally without merit, people will be banned from seeking a hearing in person. And the time limit for applying for a judicial review of a planning decision will be halved, from three months to six weeks.
'Vital'
Mr Grayling said these were "straightforward procedural reforms" and that judicial reviews "should be used by people who have carefully considered whether they have proper grounds to challenge a decision".
He added: "We are changing the system so it cannot be used anymore as a cheap delaying tactic."
Charities and civil liberties campaigners expressed concerns about the proposals in a public consultation earlier this year. More than 50% of those responding disagreed with proposals to charge for an oral hearing while 67% opposed a reduction in the time allowed for challenging planning decisions.
Liberty said the proposals represented "another assault on access to court" and on "democratic traditions".
"Judicial review is vital in allowing ordinary people to hold the state to account," said Shami Chakrabarti, the organisation's director.