Is government planning cut to schools budget?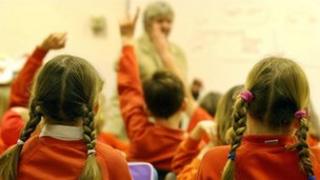 The next comprehensive spending review - where the government decides what public spending it will cut and what it will keep - is due on the 26 June 2013.
It is currently preoccupying Whitehall and as it does we thought there were at least two truths.
The first is that there are ring-fenced areas - international aid, the NHS and schools. These, we had thought, would not be cut.
The second is that these negotiations are fraught, and there will be much gamesmanship: the Treasury threatening the unthinkable in a bid to get departments to cough up.
Much of this will be shadow boxing - drastic and fake ideas from the Treasury for public spending cuts, floated as a tactic to make a government department accept more than they otherwise would.
But when we get to the 26 June we will realise some of it wasn't shadow boxing, but the real thing.
Against that backdrop, a development.
Liberal Democrats are bemused to have been told by their Conservative coalition partners that the real numbers proposed by the Treasury to the Department for Education (DfE) could result in a massive ring-fenced area becoming un-ring-fenced.
The schools budget had been protected. But now Whitehall sources tell me that the Lib Dems are being warned by Conservatives that it may not be.
Some weeks ago, when all departments were written to by the Treasury, the DfE was told that it had to make 10% savings in those bits of its budget that are not schools. They were doing that. Schools are protected because their improvement is a key coalition pledge.
But DfE officials have been told by the Treasury that they have to also work up a cut of 10% to their whole budget, and that if needs be schools should not be protected.
Amid feathers flying, and with officials trying to protect schools, an alternative cut would be an end to the offer of free childcare for two year olds - a personal priority of the Deputy Prime Minister and Lib Dem leader Nick Clegg.
Liberal Democrats are being told that it won't be funded after the years 2014-15, my sources say.
Supposedly the number crunchers have worked out that this extreme demand from the Treasury means a cash cut of £2.5bn in 2015-16. The axing of the free childcare for two year olds offer would save £760m and other cuts to nurseries would be £2.2bn. Or you unring-fence schools.
My Lib Dem sources are sanguine, believing this to be a classic bit of heavy-handed Treasury negotiation to make them swallow unpalatable cuts elsewhere.
And the Treasury is impassive. When I contacted them, the Treasury knocked this report back. They say that they have not gone to departments for more than what is already in the public domain. Which in the case of the Department for Education was 10% cuts to non-school budgets.
The DfE declined to comment on the claims.
Monday is the deadline for departments to submit their slate of proposed cuts to the Treasury.
Might this spending review actually see the end of the schools ring fence? My sources suggest that is now on the table.