Is blue still the colour in Middle England?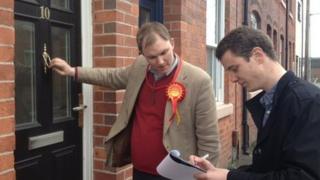 "If politics doesn't work out, I could be a very good door to door dog food salesman. I know where they all live!" chuckles Labour candidate Gareth Snell, as a brute of a dog, not far off the size of an average donkey, eyes us up through a garden gate.
Man's best friend doesn't look like our best friend from where I'm looking and is leaving us both with the impression that he'll not only demolish the leaflet being offered to his owner but the arm of whoever hands it to him.
The letterbox, on this occasion, is spared Labour's leaflet. But few others seem to be.
If the party needed a heads-up that it was in for a thrashing in the 2010 general election, the results in the local elections here in Staffordshire the year before provided it rather starkly.
The party, as Mr Snell puts it, was "obliterated."
Labour had been in control of the county since 1981. It had never had fewer than 16 councillors and had regularly had around 50. By the time the electorate had had its say four years ago, it was left with just three.
The Conservatives, by contrast, had 49.
'Message'
"We've regrouped, we've listened and we are working hard. We're engaged and we are part of our communities," Mr Snell says. He is in the former pit village of Knutton just outside Newcastle-under-Lyme, leafleting with around half a dozen Labour activists.
"We hope to win significantly more seats than we currently have and hopefully take control of the council," Gareth Snell adds. "If we can win in Staffordshire it will show the One Nation message is working."
In Stafford, council leader Philip Atkins, is sitting at his desk. There are several pictures of him with the prime minister dotted around the office.
On most issues, he is on-message with the national Conservative campaign and is evangelical about the scale of the changes he has led in his four years in the top job at the council.
His focus has been turning it into what he calls a "commissioning organisation," willing to outsource and in some cases stop providing some services, rather than trying to do everything itself.
"Can Labour as a trade union-backed party make the tough decisions that will change the working practices of their members, but in the long run will leave them better off? It's a real conundrum for them," he says.
Mr Atkins talks with pride about his decision, alongside neighbouring Labour-controlled Wolverhampton City Council, to pay for and build a motorway junction to ensure a new engine plant run by Jaguar Land Rover would bring 1,450 jobs to the area.
But mention the high-speed rail line, HS2, which will connect London, Birmingham, Manchester and Leeds and there is a change of tone.
Local Conservatives do not share the national party's enthusiasm for the idea. It is, after all, a line that will pass straight through the county, but the trains on it will not stop here.
'Scar'
Just under 30 miles north in the small town of Biddulph, UKIP is tapping into local hostility to the plan.
Alex Povey runs Povey's Oatcakes. His business churns out 12,000 oatcakes a day. Cheese and bacon is the most popular filling, in case you wondered.
The party won a handful of seats in the county back in 2009, at Labour's expense. The irony of those seats being lost to UKIP in an area that has benefited from European Union regeneration money is not lost on Labour.
UKIP's presence this time around isn't lost on any of its rivals. Four years ago the party put up candidates in 37% of the council seats here. This time they are contesting 89%.
"UKIP's views are very different compared to the three main parties, you can't put a cigarette paper between the other political parties. We are here for the local people, the local issues, the minorities who don't get their voices heard."
On HS2, his message is simple: "Why rip up our land when we'll get no benefit whatsoever?"
'Ghost'
The Green Party, so often the fourth contender in local election races, now faces a very serious rival for that spot in UKIP.
"Personally I don't feel the squeeze from UKIP. They are probably a flash in the pan. They are a protest vote for disaffected Tories," Green activist Andrew Murray tells me.
The party is only standing in eight seats, and strongly disagrees with UKIP on almost everything, except HS2.
"It will be a scar across the county of Staffordshire, we won't see any of the benefits because the train won't stop here," he says.
High up in the Staffordshire Moorlands in the village of Endon, Liberal Democrat candidate Christina Jebb has her campaign leaflets set out on the dining table. "Some leaders are born women," says the slogan on a small cushion on the bookshelf.
Mrs Jebb has revelled in her role as a leading voice of opposition to the Conservative administration in the county, but is equally proud that her party is in national government.
"It has laid a ghost that there used to be. It is worth voting for us. We are delivering on our priorities. We have delivered about 90% of our manifesto commitments already. We work hard all year round, we believe in working with others."
She remains upbeat about her party's prospects, despite the mauling many of her colleagues have suffered in local elections since the coalition came to power.
The political map of Staffordshire right now looks very blue. The question all the parties are asking is just how blue it will still look after 2 May.
What happens here will be pored over by those back at Westminster trying to work out their own fortunes come the general election in two years' time.
A full list of candidates standing for election to Staffordshire County Council is available on the council's website.