No 10: Baroness Thatcher's funeral cost taxpayer £3.6m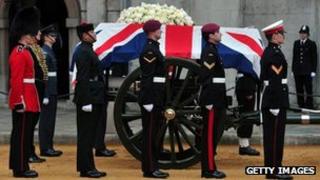 Public spending on Baroness Thatcher's funeral totalled £3.6m, Downing Street has announced.
About £500,000 was spent on ceremonial costs such as St Paul's Cathedral and receptions after the funeral. A further £1.1m went on policing and security.
An additional £2m "opportunity cost" was for police officers who would have been on other duties on the day.
Lady Thatcher's family paid for flowers and undertaking costs. No figure has been published for those.
No estimates were officially given for the cost of the funeral in the days leading up to it, although there had been newspaper suggestions that it might cost up to £10m.
Baroness Thatcher, the first female UK prime minister, was accorded a ceremonial funeral with military honours.
A funeral procession delivered her coffin from the Palace of Westminster to St Paul's cathedral, transferring it from a hearse to a gun carriage at the church of St Clement Danes on the Strand.
Four thousand police officers were on duty in central London but, despite concerns about demonstrations, only a small number of protesters voiced their opposition to Lady Thatcher's policies and there were no arrests.
Six police forces from outside London sent specialist officers to help with escorting foreign dignitaries.