Local election 2013: Greens aim to move beyond strongholds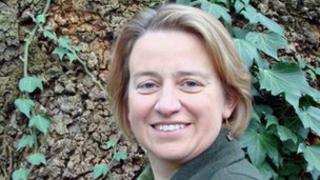 The Green Party is confident of growing beyond its strongholds and "spreading out" across the country, its leader Natalie Bennett has said.
She told the BBC she was confident they would win their first councillors in Essex, Surrey and Cornwall and pick up seats in the West Midlands and Bristol.
The party is fielding 900 candidates in elections to 34 county councils and unitary authorities on 2 May.
In the equivalent elections in 2009, it had 17 councillors elected.
Ms Bennett, who is fighting her first elections as leader, said she was moving towards polling day on Thursday "very confidently".
The party is defending seats in traditional strongholds such as Oxfordshire, Norfolk and Suffolk, as well as other areas in southern England and the Midlands. It is also contesting two seats it won for the first time in Lancashire in 2009.
'Green political philosophy'
But Ms Bennett said she also expected to increase the party's representation away from traditional Green areas, particularly in the West Midlands, Bristol and Hertfordshire.
She said: "People are looking round for alternative models and ways of doing things, which is what the Green Party is offering.
"We're looking to very much spread out across the country.
"What we'll be doing is very much growing out of our strongholds - places like Brighton and Hove where we're now running the council and, of course, we have our Green MP Caroline Lucas.
"I'm quite pleased we've got our first ever candidate on the Isles of Scilly," she added.
Deputy leader Will Duckworth told the BBC he expected the party to do well in Worcester, Leamington, Nuneaton and Malvern, with the party hoping to gain between six and 12 seats around the country.
But he said the resurgence of the Labour Party and the rise of UKIP made it difficult to predict how the party would fare.
The party is campaigning on a complete "green political philosophy", which sees economic and environmental justice as indivisible, Ms Bennett said.
She said the financial crash of 2008 had made people realise "a tweak to the banking system and a bit of tweak to the economy isn't enough".
Instead the economy should be rebuilt around strong local economies.
'Sustainable society'
"We believe that we need to re-localise our economy, bring manufacturing and food production back to Britain, to build our economy around local businesses, small businesses and co-operatives for environmental, economic and social justice reasons.
"We know for a sustainable society we need jobs you can build a life on. We want to ban zero hours contracts and we want to make the minimum wage a living wage."
The Greens are campaigning in favour of 20mph zones on busy residential roads and against the privatisation and outsourcing of local council services, such as social care.
The party is also campaigning against the environmental damage done by the building of waste incinerators - a major local issue in some areas - and against the process of fracking for shale gas, which has been temporarily banned in the UK after it was blamed for two earth tremors in Blackpool in 2011,
On the green belt, the party is calling for housing developments to be blocked and the money spent instead on the renovation of 720,000 currently empty properties, and it wants more green belt land to be used to grow fruit and vegetables, boosting local food production.
Mr Duckworth said: "The Green Party's campaign is all about local people, working for local businesses in the local area and acting locally."
The Green Party has been extending its presence in local government in recent years, gaining 40 seats - a net increase of 11 - in last year's elections. It also made a national breakthrough in 2010 when Ms Lucas became the party's first MP.