Miliband insists Labour can tackle UK's 'serious problems'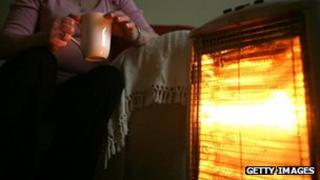 Ed Miliband has called for immediate economic measures to help address the UK's "deep and serious problems".
The Labour leader said action was needed on jobs, tax, household bills, housing and training as part of an economic recovery "made by the many".
He said he would look at the issue of whether wealthier pensioners should get benefits such as winter fuel payments.
But he declined to say how he expected Labour to do in Thursday's council elections in England and Wales.
'People's priorities'
Unveiling Labour's alternative Queen's Speech - ahead of the launch of the government's future legislative programme next week - Mr Miliband said people believed the country was "going backwards" under the government.
The coalition, he said, believed in cutting taxes for the wealthy and hoping the effects would "trickle down" to everybody else while Labour supported a broad-based economic recovery.
"This country has deep and serious problems," he told BBC Radio 4's The World at One programme. "The big question facing this country is how we get out of it."
"People are asking this very profound question, which is 'can anyone sort out the mess the economy is in?'. My emphatic answer to that is 'yes' but that has to be proved and that is what we are proving."
Labour are calling for a compulsory jobs guarantee, the re-introduction of the 10p tax band, the setting up of regional banks, action to reduce energy bills and train fees, a crackdown on rogue landlords in the private rental sector and stiffer penalties for firms exploiting migrant workers as well as a temporary cut in VAT.
Conservative Party chairman Grant Shapps said the plans meant more spending, more borrowing and higher debt levels and this was "exactly how Labour got us into this mess in the first place".
Mr Miliband declined to say how he expected Labour to do in Thursday's poll, saying he was focused on listening to voters' concerns and not engaging in "political commentary". Commentators have said Labour, who performed poorly in 2009 when the seats were last contested, should make about 350 gains in the elections to 27 councils and seven unitary authorities.
Universal benefits'
Asked about his policy on universal benefits for pensioners, such as the winter fuel allowance, the Labour leader said he was a supporter of the payment and there was independent evidence that it had been effective at tackling fuel poverty.
Mr Miliband said many pensioners were on low incomes and it was clear they used the funding for "the purpose it was intended" and not other things.
But he said his party would look at whether wealthier pensioners should be eligible for winter fuel payments and other universal benefits - such as free buses passes and TV licences as well as winter fuel payments - ahead of the next election.
"We think it is an important benefit and think it has actually made a big difference but we will look at all these things," he said.
No 10 said anyone could ring the benefits helpline and discuss handing back the payments while Work and Pensions Secretary Iain Duncan Smith says some pensioners were already doing so.
Prime Minister David Cameron has pledged to protect benefits for the elderly for the duration of this parliament, due to last until 2015.
Winter fuel payments cost the government £2bn a year and all the main parties have acknowledged further cuts will need to be made after the next election in order to reduce the budget deficit.
The BBC's political correspondent Gary O'Donoghue said all the main parties at Westminster were tiptoeing around the issue, largely because older people are more likely to vote than other age groups and there are county council elections in England and one in Wales later this week.