Local elections 2013: UKIP confident of vote share boost, says Farage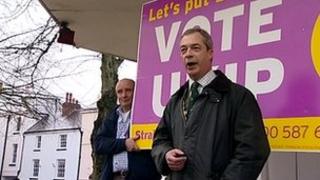 UKIP will boost its share of the vote more than "anybody can yet quite believe" in Thursday's local elections, leader Nigel Farage has said.
He said the elections were a "serious moment" for the party's credibility.
The Eurosceptic party is aiming to capitalise on concerns over immigration, HS2 rail and wind farms.
It has traditionally done poorly in local elections but has gained more than 30 councillors through Tory defections in recent months.
A highest yet 1,745 candidates are standing for the party, just 18 fewer than the Lib Dems and nearly three times as many as UKIP fielded the last time these elections were fought in 2009.
And with UKIP riding high in national opinion polls and coming second in the recent Eastleigh by-election, Mr Farage predicted his party would win seats in each of the 34 councils where elections are being held.
'Bridgeheads'
He told the BBC: "I am very confident we're going to get a bigger percentage share of the vote than anybody can yet quite believe here in the Westminster village.
"In terms of the number of victories it's a very difficult call. I don't know. No one does, but I am confident that we will establish bridgeheads on county councils up and down the land.
"If we have not formed groups on a significant number of county councils I will be disappointed."
Chief spokesman for UKIP Gawain Towler said the party was expecting to make progress in Staffordshire and Buckinghamshire, because of its opposition to the HS2 high speed rail link, which will run through the counties.
"We're also expecting to make progress in Lincolnshire. Cornwall is looking good and there are good noises coming out of Northumberland, which might surprise some people," he added.
Mr Farage said the party was campaigning to give people more power over their lives and reduce state interference.
On the economy, he said UKIP was proposing "tens of billions" of tax cuts and had set out £77bn of cuts to public expenditure to deal with the deficit.
He also backed a flat rate tax, although admitted that the party was having an internal debate about whether this should have two-tiers.
He said: "What we're for is an independent, self governing United Kingdom that believes in itself and changes its entire future course away from being obsessed with being part of Europe to actually linking out and forging new trade and cultural relationships with the rest of the world."
He also defended UKIP's selection of candidates, saying a "handful" had embarrassed the party "mostly because they haven't told us the truth".
Councillor recall
As well as campaigning against wind farms and increased migration, which UKIP claims is placing a strain on housing and public services, the party has three overarching polices for councils across England.
The first is to introduce a mechanism to recall councillors if 20% of registered voters in their ward request it.
This is something the party plans to introduce for its own councillors, and would bring in for all councillors in a UKIP-led council.
The party also has a "strict" policy of no whipping and says none of its councillors will be made to vote in a certain way.
Thirdly the party wants to introduce binding local referendums on issues of particular local concern, such as controversial planning decisions.