Local elections 2013: BNP predicts 'one or two surprises'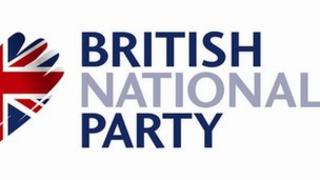 The British National Party is predicting "one or two surprises" when the results of Thursday's English local election are revealed.
The anti-immigration party is putting up 99 candidates and is defending one seat, in Burnley, Lancashire.
Spokesman Simon Darby said the BNP had been "vilified" but had enabled debates on "mainstream" issues, including Europe, through its campaigning.
He added that the party had received some "clonking" donations.
The BNP, led by Nick Griffin, has suffered losses in recent local elections.
Fracking
But Mr Darby told the BBC that people on the doorstep were more "honest" with its candidates than those of other parties and tended to discuss their "frustrations", which could translate into votes.
He said the BNP was campaigning to lower bills in an attempt to reduce fuel poverty and that, particularly in the North West, its opposition to the process of "fracking" to extract shale gas should prove popular.
However, Mr Darby said it was "very difficult" to succeed as the other parties combined to denounce the BNP, adding: "We have got an excellent chance of winning a seat or two. If we do that, even our most vociferous opponents will say 'how on earth did they manage to do that?'"
He also predicted that any rise in the fortunes of the UK Independence Party, which has also campaigned on the issue of immigration, would be short-lived.
Mr Darby said: "[Leader] Nigel Farage's biggest mistake happened after the death of Margaret Thatcher, when he said he was carrying the torch of Thatcherism.
"You start talking about that in the North of England and the West Midlands, where she did terrible damage, and it won't do you any good. People will think UKIP are effectively the Tories on acid."
He added: "People recognise that we are talking the truth to them."