Tory MP's father performs rapid UKIP double U-turn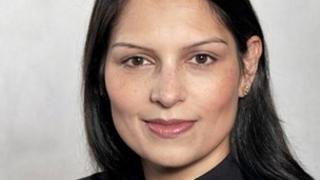 The father of a Conservative MP has decided he will still contest a council election for the UK Independence Party - an hour after deciding to pull out.
Sushil Patel, whose daughter Priti Patel has been in Parliament since 2010, will stand in Hertfordshire on Thursday.
Earlier, a source said he had pulled out to protect Ms Patel's career.
But Mr Patel had a change of mind after he was told it was too late for his name to be removed from the ballot.
It has been quite an eventful day for the businessman, making two political U-turns.
'Not for turning'
At about 14:00 BST, UKIP leader Nigel Farage announced that Mr Patel, who arrived in the UK in 1972 after fleeing Idi Amin's regime in Uganda, was running for the party.
But, two hours later, a source told the BBC he was withdrawing because he feared the move could damage the future Conservative Party career of his 41-year-old daughter, who represents Witham in Essex.
Then, another hour on, it was announced that Mr Patel would be standing after all, as the ballot papers had already been printed and the deadline for alterations had passed.
A UKIP spokesman said "Mr Patel remains the UKIP candidate for the Bushey South Division in the Hertfordshire County Council elections. He is currently convalescing from a recent serious operation and is unable to conduct any further interviews."
Mr Patel said: "I am proud of being a UKIP candidate and very proud of the achievements of my daughter who represents the people of Witham in an exemplarily fashion. My views are my own and I am astonished that there has been quite so much interest in my candidacy."
Mr Patel has been described by his daughter as a devotee of former Conservative Prime Minister Margaret Thatcher, one of whose catchphrases was: "You turn if you want to. The lady's not for turning."
All seats on Hertfordshire County Council are to be contested on Thursday.