Lord Falconer to press on assisted dying law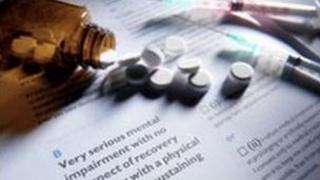 Parliament is to be asked to consider the case for legalising assisted dying for terminally ill patients who have less than six months to live.
Labour peer Lord Falconer is to table a bill this year calling for a change in the law in England and Wales, underpinned by a series of safeguards.
He said the law needed to "catch up" with public attitudes on the issue.
Peers rejected calls for legalisation in 2006 and 2009, while doctors' groups and the Church of England are opposed.
Assisted suicide is illegal in England and Wales and private members' bills rarely become law unless they are supported by the government of the day.
The proposed law change is being supported by Dignity in Dying and other pressure groups that campaign for terminally ill patients to be given more information about their rights, and greater choice and control over their treatments.
Safeguards on lethal medication
Under Lord Falconer's private member's bill, assisted dying would be legalised in "strictly defined circumstances".
Only those aged 18 and over, who have had a terminal illness diagnosed, would be able to request help to end their lives. In doing so, they would have to prove they have the mental capacity to make a voluntary and informed choice, were not being unduly influenced by others and had a "settled intention" about their wish to die.
Before proceeding, their condition would have to be independently assessed by two doctors as well as other healthcare professionals and they would have to be informed about alternative treatments and end-of-life care options.
Other safeguards being proposed include guarantees about the storage and transportation of lethal medication, the reporting of assisted deaths and the powers for cases of non-compliance to be investigated.
Last year a commission chaired by Lord Falconer, the former Lord Chancellor, concluded that a small number of people felt the extreme suffering caused by their condition could only be relieved by ending their own life or the knowledge they could do so.
'Wrong message'
The panel of peers, MPs, academics and medical professionals recommended all those with terminal illnesses with less than a year to live should be able to request an assisted death but Lord Falconer said he had been persuaded this should be reduced to six months because of greater certainty of diagnosis.
The Labour peer acknowledged there were strongly held views on both sides of the argument.
But he said he believed attitudes on assisted dying had changed considerably in the past decade, with people increasingly regarding travelling to Switzerland and other locations where the practice is legal as an acceptable option.
In light of this and the clear need for proper regulation, he said "it is not a question of whether [legalisation] will happen but when it will happen".
But any change in the law is likely to be strongly opposed by Church of England bishops sitting in the House of Lords.
In opposing the commission's recommendations last year, panel member Rev Canon Dr James Woodward argued there was not a sufficient ethical, moral and social consensus behind calls for change.
Matter of conscience
The British Medical Association has also rejected calls for it to soften its opposition to assisted dying, warning last year that any change in the profession's position would send the wrong message.
Recent attempts to amend the law on suicide, which dates back to 1961, failed in 2006 and 2009.
Past governments have regarded the issue as a matter of conscience, one on which MPs and peers should have a free vote, and the Ministry of Justice said it would only comment on any proposed legislation when it was published.
Public Health Minister Anna Soubry has said it is "ridiculous and appalling" that Britons have to "go abroad to end their life" but other Conservative MPs have warned that any change would be a "slippery slope" and would be firmly opposed.
Public interest in prosecution
Despite more than 40 cases of assisted dying being reported since 2009, there have been no prosecutions for the offence since the Director of Public Prosecutions introduced new policy guidelines in 2010.
These sought to clarify when it would be in the public interest to bring a prosecution, placing increased emphasis on the state of mind of the individual wishing to end their life and the motivation of those seeking to help them do so.
The guidelines were the result of a case brought by Debbie Purdy, a terminally ill woman, who in 2009 won a ruling from the law lords requiring the DPP to set out whether her husband would be committing an offence if he accompanied her to Dignitas, the Swiss assisted-suicide organisation, to end her life.
As well as Switzerland, assisted suicide is also legal in Luxembourg, the Netherlands and Belgium.