Q&A: Tory row over an EU referendum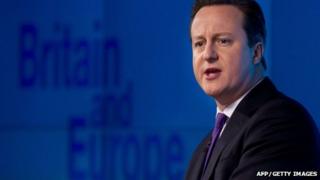 Debate is raging in the Conservative Party about Britain's future membership of the EU. Here's a guide to what MPs are arguing about:
Why is the Conservative Party arguing about Europe?
Eurosceptic MPs say they are fed up with promises of a referendum on Britain's EU membership and want to put pressure on David Cameron to hold one. But it is a strange sort of argument because the two sides say they agree with each other on the main point - that Britain must have an in/out referendum in 2017. Mr Cameron says the Lib Dems have prevented him from passing a law to pave the way for a referendum in 2017.
Why has the issue come up now?
A growing number of Conservative MPs believe Britain would be better off out of the EU and have been putting pressure on Mr Cameron to give the public a referendum. This has gained fresh momentum following the recent election success of the UK Independence Party and a string of senior Conservatives such as Lord Lawson and Michael Portillo backing Britain's exit.
What does David Cameron think?
David Cameron wants Britain to stay in the EU but wants to change Britain's relationship with it. He is also in favour of a referendum but wants to negotiate the return of some powers from Brussels before such a vote takes place. In his view, that changed membership package should be put to the British people in an in-out referendum after the next general election, by the end of 2017. That, obviously, also depends on the Conservatives winning a majority in 2015.
What sort of powers does the UK want back?
A cross-government audit is currently under way looking at where the EU has powers over life in the UK. The idea is that each one will then be examined to see whether it is necessary or whether the power could be "brought back" to the UK. One of the areas it might include is the Working Time Directive, which imposes employment rules such as limiting the working week and giving EU workers a minimum number of holidays each year. The UK is also keen on opt-outs from policing and criminal justice measures.
Why does Cameron think he can agree changes with EU leaders?
The recent eurozone crisis has led those countries using the single currency to believe that they need closer integration in future - a move which will further increase the gap between the euro and non-euro EU members. Mr Cameron says there needs to be a new EU treaty to facilitate the eurozone integration, so, as part of negotiations, there is a chance to redefine the membership rules for countries like the UK.
Does Cameron want the UK to leave the EU?
No. He has accused those in his own party who have called for Britain to leave of "throwing in the towel" before negotiations have even started. Two of his cabinet ministers - Education Secretary Michael Gove and Defence Secretary Philip Hammond - have said that if there were a referendum now they would vote to leave the EU.
Why are some Tory MPs unhappy?
They want Mr Cameron to firm up his commitment to a referendum by passing legislation binding the next government to hold one. There have been fears that the party could lose votes to UKIP, which advocates the UK's withdrawal from the EU, at the next election if the public doesn't believe the Conservatives are serious about a referendum. But former Foreign Secretary Malcolm Rifkind says pushing for a bill now is "foolish" and risks splitting the party.
What happens next?
The Conservatives have published a draft parliamentary bill to legislate for an in-out referendum on Britain's membership of the European Union to be held by the end of 2017. The move was an attempt to show Mr Cameron was serious about his referendum pledge but it did not stop 116 Tory MPs from backing an amendment to the Queen's Speech regretting the fact it did not mention such a bill. The draft bill will now be introduced by a backbencher, James Wharton, who came top of the private member's bill ballot of MPs, allowing him to introduce his own legislation.
Will the draft bill become law?
Few private member's bills become law if they don't have cross-party support. They have to go through all the same stages as a government bill but are given far less time to do so, so often run out of time or are simply "talked out" by opponents. Without the government's backing they will usually fail. This bill was drafted by the Conservatives but is opposed by their coalition partners, the Liberal Democrats and is likely to be opposed by Labour. It's not yet clear whether enough Labour, Lib Dem and other MPs will abstain or support the bill to allow it to become law. Mr Wharton has said the parliamentary arithmetic is "difficult" but he hopes that all MPs will agree it is time people had a say.
So are we going to have a referendum or not?
Even if passed, the bill does little more than reinforce David Cameron's promise that the Conservatives would hold a referendum by the end of 2017, if elected to power at the next election. It would not bind a future Labour or Lib Dem or coalition government to holding a referendum.
How has UKIP reacted?
UKIP leader Nigel Farage has said Tory attempts to pass a referendum bill are "meaningless" as any bill could be repealed by a future government. Instead, David Cameron should hold a referendum before the next election. If he doesn't "he will go on leading a party that is hopelessly split," Mr Farage says.
What does Labour think?
The furore within the Tories has been seized on by Labour as a sign Mr Cameron has lost control of his party. Labour leader Ed Miliband opposes the decision to announce a referendum four years early, but is not ruling out the possibility of one in the future. But a group of Labour MPs and peers, including the former Europe minister Keith Vaz, are calling for their party to support a referendum.
What do the other parties think?
Lib Dem leader and Deputy Prime Minister Nick Clegg has criticised his Conservative coalition partners for their "endless navel-gazing over Europe", which he said was in danger of distracting the government from its priorities. Both the SNP and Plaid Cymru have expressed concerns about what they see as English-led calls for the UK to leave the EU, which would not be in the interests of Scotland or Wales. Green MP Caroline Lucas is in favour of an EU referendum on the basis of democracy, not because she is anti-EU.