Mobile home residents given better protection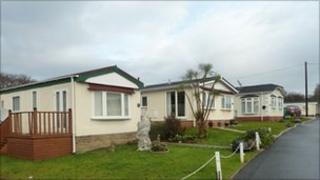 Residents of mobile home parks in England have been given new rights to protect them from rogue site operators.
A Commons select committee report last year found many residents experienced problems with maintenance, security, written contracts and intimidation.
New legislation, introduced on Monday, bans site owners from the buying and selling process and gives new powers to prosecute those who harass residents.
Communities Secretary Eric Pickles said it "called time on the crooks".
There are about 84,000 "park homes" - relatively low-cost bungalow-style residential properties, usually sited on private estates - on 2,000 sites across England.
Those who buy them, own the home but pay a pitch fee to the site operator, who owns the land and imposes rules and regulations.
Before the new legislation came in, those rules included getting the site owner's approval for a buyer when selling the home on.
'Sale blocking'
The BBC's Simon Clemison said that, for many, park homes offered a chance to downsize and enjoy retirement in a rural setting.
But there have been many court cases involving residents complaining about the practices of some site owners.
Common problems have included:
Site owners stopping residents from selling their homes on the open market by withholding "approval" of the prospective buyer. Approval is withheld to force a low-priced sale to the site owners who sell on again to make a profit
Problems with maintenance, security or safety standards
Intimidation by site owners or managers
The legislation has been welcomed by residents' associations who have campaigned for changes.
The Park Home Owners Justice Campaign, which has said it is "over the moon" about the legislation, has said there has been a particular problem with site owners "sale blocking" to buy mobile homes themselves and replace them with brand new ones.
On some sites, where old homes have been removed, site owners have replaced them with new homes for about £70,000 and then sold them on for about twice that amount.
The Department for Communities and Local Government said removing site owners from the buying and selling process meant residents could no longer "be forced to, or prevented from, selling their park homes to fill the landlord's pocket".
The legislation will also make it harder to impose unexpected charges or changes of rules.
And it will be easier for councils to prosecute rogue site owners.
A new helpline, operated by the Leasehold Advisory Service, will be launched on Tuesday to give residents advice on their rights when selling their homes.
Mr Pickles said: "It only takes a few dishonest site owners to blight the industry by preying on vulnerable residents and neglecting their duty of care.
"That's why we've now called time on the crooks, giving residents the rights they need and protecting them in law."