Mercer aftermath: Will PM introduce new lobbying laws?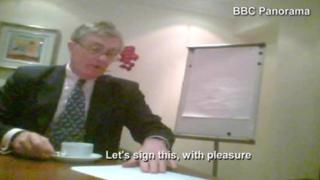 So the former army colonel and Newark MP now faces his toughest political and personal campaign yet.
Can Patrick Mercer defend his reputation from damaging claims that he accepted cash for asking parliamentary questions?
It's a long walk from his Newark constituency to Suva, the capital of Fiji in the South Pacific.
By lobbying on behalf of interests representing Fiji's military junta and accepting cash to table questions to British government ministers, it seems he may have broken the most basic of parliamentary rules: failing to mention paid consultancy in the registers of MPs' financial interests.
Although he insists he took the cash for consultancy work outside parliament, which is within the rules.
I've spoken to many Tories, who have expressed genuine surprise. They've also welcomed his decision to resign from the parliamentary Conservative Party and stand down at the next general election.
By-election calls
"I think he's a fairly honourable man," said Mark Spencer, the Conservative MP for the neighbouring Sherwood constituency in Nottinghamshire.
"He doesn't want to bring any shame or embarrassment on the party."
Another senior Nottinghamshire Tory wasn't quite so supportive, describing Mr Mercer's character as "peppery".
Certainly, his political career looks over now. One question is whether Patrick Mercer can hang on as Newark's MP. There are growing calls for a by-election, even from Conservatives.
For the remainder of this parliament, he may relish the opportunity to speak in the Commons as an independent.
But will anyone want to hear or be interested in what he has to say?
However, the prime minister will be relieved the Newark MP hasn't forced a sudden by-election.
For David Cameron, the serious allegations are an unwelcome throw-back to the Major-era when the Tories were tainted with a succession of allegations of sleaze.
This prime minister may be forced to revisit some earlier Coalition Agreement pledges.
Top of the list is a parliamentary register of political lobbyists. Cabinet minister Ken Clarke told me legislation had been planned but was pulled. It just wasn't regarded as an immediate pressing priority.
Next on that list is legislation enabling the recall of MPs who bring their elected position into disrepute.
This is what the Coalition Agreement stated: "We will bring forward early legislation to introduce a power of recall, allowing voters to force a by-election where an MP is found to have engaged in serious wrongdoing and having had a petition calling for a by-election signed by 10% of his or her constituents."
Note the reference to "early legislation". It's currently lost in the political long grass.
"The register of lobbyists is a quite straightforward matter," Mr Clarke added.
"But the recall issue is far more complicated. MPs would be vulnerable to all sorts of pressure and lobby groups gathering the required signatures to trigger a recall."
The other more fundamental question is whether more legislation will make any real difference in the long run.
Patrick Mercer was first elected Newark's MP in 2001 when the Tories won the seat off Labour's Fiona Jones. At the last election, he'd built up his majority to more than 16,000.
The former army colonel established a Commons reputation for security policy.
But he fell out with David Cameron in 2007 over alleged comments about ethnic minority army recruits. Patrick Mercer was sacked as Shadow Minister for Homeland Security.
In recent years, he's specialised in researching and writing military history novels about the Crimean War. He's written film scripts based on one of his Crimean war novels.
Most politicians are fascinating and intensely interesting personalities. But life on the backbenches can be a treadmill existence. Maybe, risk taking becomes something of a thrill.
Patrick Mercer is now risking that the court of public opinion and the parliamentary commissioner for standards eventually clear his name .