'New law needed' after collapse of care home neglect case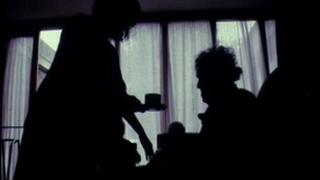 The collapse of Britain's biggest investigation into elderly care home neglect has prompted calls for a reform of the law.
Former care minister, Paul Burstow wants a new offence of corporate neglect to make it easier to hold those running bad care homes to account.
He is to table an amendment to the government's Care Bill which is currently going through parliament.
Care Minister Norman Lamb says he is considering the issue.
Mr Burstow - who stepped down in last September's reshuffle - said he was determined to ensure the government created the new law following the end of Operation Jasmine.
Police launched the operation seven-and-a-half years ago following concerns over the death of more than 60 care home residents in six homes in Wales. The investigation by Gwent Police cost £11.6 million and amassed more than 12 tonnes of evidence.
Among the alleged victims were elderly people who became severely malnourished or dehydrated, or who died because of infected pressure sores.
But despite exhaustive inquiries, the CPS said there was not enough evidence to charge key figures - including one of the care home owners Dr Prana Das - with gross negligence manslaughter or wilful neglect.
Later attempts to bring the care home boss to trial for lesser charges under health and safety legislation failed in March when he was deemed unfit to stand trial after suffering head injuries in a burglary.
Mr Burstow said that under the current legal framework often the only option left open to police was to try to prosecute individual carers with wilful neglect. He argues that a new law should be introduced to make it easier for police to hold owners to account instead.
He said: "We need a new criminal offence of corporate neglect which should take its lesson from the legislation on corporate manslaughter.
"We also need companies that provide care to realise it's not just about their profits, but it's ultimately about the dignity of the people they are looking after."
The call is being backed by Labour MP for Blaenau Gwent, Nick Smith who recently challenged David Cameron to ensure the law in this area was fit-for-purpose.
The BBC asked care minister Norman Lamb whether he would consider creating a law of corporate neglect.
In a statement, Mr Lamb said he was considering the issue - but stopped short of agreeing to a change in the criminal law.
"When I first took on this job in September, I identified a clear gap in the regulatory framework - one which I'm determined will be addressed.
"This summer, we will announce proposals to address the gap in the law on effective corporate accountability," he said.
Figures seen by Radio 4's File on 4 programme show that while English social services investigated more than 25,000 allegations of elderly neglect last year, just 170 criminal prosecutions for neglect were brought before the courts.
The Care Bill had its second reading in the House of Lords in May.
Listen to the full report on File on 4 on BBC Radio 4 on Tuesday, 4 June at 20:00 GMT and Sunday, 9 June at 17:00 BST. Listen again via the Radio 4 website or the File on 4 download.