Labour not avoiding tax on shares donation - Ed Miliband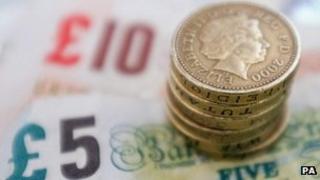 Ed Miliband has said a donation to Labour in shares was designed to provide a "steady income" for his party, not to avoid tax.
He said the party would pay tax on dividends from the shares worth £1.65m.
Millionaire businessman John Mills said the idea of giving shares rather than cash came after discussions with the party and avoided a big tax payment.
Chancellor George Osborne said such advice would be "directly at odds" with Mr Miliband's attacks on tax avoidance.
In a letter to Mr Miliband, the chancellor said: "Can you confirm that the Labour Party advised Mr Mills on how to avoid tax on his donation?
"As leader of the Labour Party, and given your previous statements on tax avoidance, such actions by your party appear to be directly at odds with your public statements.
"Most importantly, will you now pass the amount of tax that has been avoided to the Exchequer? As you say, this is money that is needed to fund vital public services such as the health service and our schools."
'Tax efficient'
According to figures released by the Electoral Commission in May, Mr Mills' donation was effectively the largest to the Labour Party in the first quarter of 2013 - twice that of the Unite union.
But it was made in shares, not cash. The founder and chairman of shopping channel JML told the Daily Telegraph his approach had been the "most tax-efficient way" way of making the donation.
He told the newspaper: "Otherwise, you get no tax relief on donations to political parties for understandable reasons.
"If you donate to a political party out of a tax-paid income, up until April it [the tax] was 50% and now it is 45%. That means if it is £100,000, the Labour Party gets £55,000 and the government gets £45,000."
The former councillor, who is the brother-in-law of Labour former cabinet minister Tessa Jowell, added: "It came out of a discussion I had with them [Labour] about the best way of doing it.
"It is quite a good model. Labour has got people who deal with compliance and the legal side of all this. They are very sensitive nowadays."
Funding rules
The shares deal meant Labour would receive a regular annual income in the form of dividends. If the sum had been paid as a cash dividend rather than shares, Mr Mills would have had to pay £724,710 in dividend tax, the Telegraph said.
Labour said it was grateful to Mr Mills for his support, that his tax affairs were a matter for him and that the donation was in line with party funding rules.
Mr Miliband, asked about the donation after his speech on welfare, said: "The reason John Mills gave us these shares is because he wanted the Labour Party to have a steady stream of income, which we will get from dividends.
"The Labour Party will be paying tax on these dividends, will be paying tax every year on these dividends, and that is what we will be doing."
He added: "Lots and lots of organisations receive donations on this basis. I don't know whether George Osborne is going to be writing to all those organisations that receive shares in this way to say they somehow have got to pay back whatever money he is talking about."
Dividends are payments to shareholders that a profitable company can decide to make - they are typically paid each year and are a fixed amount per share, but can vary from year-to-year in line with the firm's trading and profit performance.
The Electoral Commission said it had been contacted by the Labour Party prior to the donation and using shares to provide such funding was allowed.
Mr Mills is also chairman of the Business for Britain group, which lobbies to re-negotiate Britain's relationship with the EU.