Tory MP's comments on women doctors dismissed by Downing Street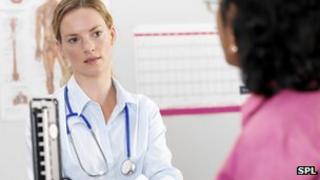 The government has distanced itself from the remarks of a Conservative MP who described female doctors as a "tremendous burden" on the NHS.
During a debate in Westminster Hall, Conservative MP Anne McIntosh spoke about the percentage of medical students who were female.
"In the normal course of events they will marry and have children, they often want to go part-time and it is obviously a tremendous burden training what effectively might be two GPs working part-time," she said.
"And I think that is something that is going to put a huge burden on the health service."
Health Minister Anna Soubry initially seemed to endorse that viewpoint, saying: "You make a very important point when you talk about, rightly, the good number of women who are training to be doctors but the unintended consequences."
The minister later issued a statement saying: "I fully support women GPs, my comments were not intended to be derogatory and I was responding to a point made by another MP during the debate."
The prime minister's spokesman, asked if female medics were a drain on NHS resources, responded: "What counts is your professionalism and passion for the job. It is not a question around gender."
David Cameron has full confidence in Anna Soubry, the spokesman added.
The shadow minister replying to the original debate did not address Mrs McIntosh's analysis, but shadow public health minister Diane Abbott later intervened.
"It is wrong to imply that women doctors are a burden on the NHS. Women doctors aren't the ones putting the NHS under pressure and causing a crisis in A&E," Ms Abbott argued.
Sarah Wollaston, a Conservative backbencher and former GP, said that she disagreed with her colleague: "It was an unfortunate remark. I think that women GPs contribute on this enormously."