Community buyouts to get £50m backing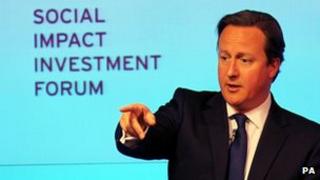 Communities wanting to buy their local pub, post office or sports centre will be able to tap into a £50m fund to help them do so, David Cameron has said.
The money will enable residents to carry out feasibility studies on asset buyouts without incurring big debts.
Speaking at a conference in London, the prime minister said community ownership could become a reality across the UK.
Mr Cameron said he was still excited by his Big Society vision despite claims it has been marginalised.
In opposition, Mr Cameron made strengthening communities and giving them more control of local services central to his political agenda - a theme he continued to pursue in early stages of the coalition government.
Critics have said his plans were too vague and have been undermined by the squeeze on public spending but Mr Cameron told a gathering of social entrepreneurs he was still committed to fighting for "a bigger, stronger society".
He announced that Big Society Capital, a social investment bank and the Big Lottery Fund, which issues Lottery-funded grants, were teaming up to launch a new community assets fund next year.
'Exciting and innovative'
Grant funding will be available to local groups to explore potential buyouts while long-term loans will be offered to enable projects to proceed.
Mr Cameron said he hoped up to £250m could be raised for community projects over the next decade and he would like to see philanthropists, councils and local economic partnerships also get more involved.
"Of course, some assets are never going to be viable in commercial terms and will always need grants and so part of the money from the Big Lottery Fund will go to help with that," he said.
"What is really exciting and innovative is that many assets can be run on a commercial basis given the right mix of upfront funding."
He cited the example of a swimming pool in Newcastle which was closed by the city council a decade ago but had been successfully revived by a consortium of local schools, residents and health groups.
When the new owners encountered a squeeze on capital, Mr Cameron said Big Society Capital was able to step in and help fund the installation of solar panels to heat the pool, reducing its running costs and making it financially viable.