EU debate: Tories launch pro-referendum web campaign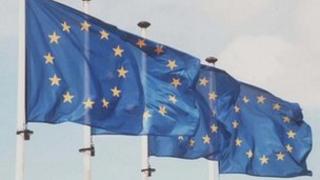 The Conservatives have launched an online campaign urging people to lobby their MPs to back an "in-out" referendum on the UK's membership of the European Union.
Chairman Grant Shapps said people deserved a "clear vote" on the issue before the end of 2017.
The party wants people to show support for Tory MP James Wharton's bill.
But the Labour and Liberal Democrat leaderships oppose a referendum, making the bill unlikely to succeed.
David Cameron has promised a referendum by the end of 2017 - following a substantial renegotiation of the UK's relationship with the EU - if Conservatives win a majority at the next election.
Under pressure from many of his MPs, the prime minister pledged to support any private member's bill put forward to this effect.
'Open and frank'
Mr Wharton, MP for Stockton South, agreed to do so after he was successful in the ballot to submit legislation.
It cannot be a government bill because the Conservatives' coalition partners, the Lib Dems, oppose it.
The Conservatives' Let Britain Decide website encourages constituents of MPs opposed a referendum to write to them to change their mind.
Mr Shapps said: "A draft bill to make this (a referendum) happen will soon be debated by MPs - but, crucially, it needs the support of other political parties to pass. Britain needs everyone to build public pressure on this."
In a speech on Monday, Mr Cameron said he wanted to renegotiate the UK's membership with the EU and then hold a referendum - but his view was that the UK should remain at the "top table" of international institutions, including the EU.
Labour has said it opposed the idea of announcing a referendum for four years' time, saying that it causes uncertainty for business and will harm the economy. The Lib Dems say there is no need for a referendum unless there is a proposal to transfer powers from London to Brussels.
The UK Independence Party says they are the only party pledging to take the UK out of the EU - they say such a move would increase, not reduce, the UK's influence on the world stage.