Nick Clegg: Agencies' access to data is legal and proportionate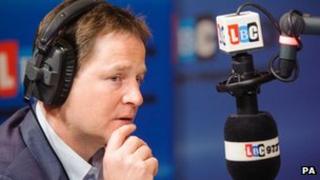 Nick Clegg says that he is convinced that the way UK intelligence agencies look at people's communications data is "legal" and "proportionate".
Those worried about whether GCHQ had access to a US monitoring programme could be reassured there were "checks and balances" in place, he said.
Ex-CIA worker Edward Snowden claims US agencies gathered and shared phone and web data with its allies.
The government says UK and US agencies operate within the law.
Deputy PM Mr Clegg opposed UK plans for a Communications Data Bill which would have authorised the retention of details of everyone in the UK's online activity - including internet phone calls, web browsing history and social media activity.
Ministerial permission
He told LBC radio that while he remained opposed to the plans - dubbed a "Snooper's Charter" by critics - he felt existing laws on what police and intelligence agencies could look at were "proportionate".
"They can't just arbitrarily access information and certainly if they want to look at the content of any communications they actually have got to get ministerial permission to do that."
He had spoken to Foreign Secretary William Hague and Home Secretary Theresa May about the US Prism programme, which is reported to give the US National Security Agency and the FBI easy access to the systems of nine of the world's top internet companies - all of which deny giving direct access to their servers.
The Guardian reports that it has obtained documents showing that UK listening agency GCHQ, based in Cheltenham, had access to Prism since at least June 2010.
Mr Clegg said he could give listeners "the fullest assurance that there are some really exacting checks and balances in the way in which all intelligence agencies access information".
"I'm absolutely persuaded that the use of communications data and the ability to look at the content of what people are saying to each other by the intelligence agencies, powers, by the way, which everyone accepts you need to keep us safe, are being done in a way which is legal, which is proportionate, which meets those tests and is subject to proper scrutiny and accountability. "
The deputy PM added: "Of course intelligence agencies get hold of information on how people communicate with each other in order to go after terrorists and to keep us safe. That's what intelligence gathering is all about and everyone accepts that. But it's whether the information that's accessed is done in a way that's proportionate."
The foreign secretary has described claims that GCHQ circumvented the law to gather data on British citizens as "nonsense".
On Wednesday Mr Hague said UK-US intelligence gathering was based on a "framework of law" and was important to the national security of both countries, having "saved many lives over recent decades in countering terrorism and in contributing to the security of all our citizens".
Labour had urged the prime minister to ask the Intelligence and Security Committee - which oversees the work of UK intelligence agencies - to look into the Prism claims and the "level of safeguards" and legal compliance. Labour MP Keith Vaz said it appeared to be "the snooper's charter by the back door".
GCHQ is reporting to Parliament's Intelligence and Security Committee about the claims.