MEPs and the art of sloganeering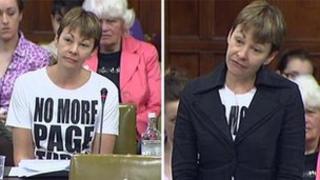 Green MP Caroline Lucas has received a dressing down in the Commons for donning a "No more page three" t-shirt.
Ms Lucas, a former member of the European parliament, was opening a debate on media sexism, but she was told by the chairman that she could only continue her speech if she covered up her t-shirt.
A Commons spokesman later explained: "By convention members are expected not to use their clothing to display slogans or make debating points. Members are expected to make their arguments through their speeches."
But this kind of behaviour is par for the course in Ms Lucas's previous place of work.
Perhaps MEPs fear that, despite the tireless efforts of the EU's elite corps of interpreters, some of their rhetorical flourishes might get lost in translation, and a rich heritage of visual sloganeering has been allowed to evolve in Brussels and Strasbourg alongside speech-making.
Eurosceptics and the Lisbon Treaty
In June 2008, Irish voters decisively rejected the Lisbon Treaty in a referendum. Much soul-searching ensued among supporters of the treaty, which was designed to streamline decision-making in the EU.
But for Eurosceptics, the path ahead was clear, as UKIP MEPs, including leader Nigel Farage (bottom right) illustrated in a Strasbourg sitting.
Despite the MEPs' resolve, Irish voters endorsed the treaty in a second referendum 16 months later.
Fears for Hungary
In December 2010, Hungary passed a law to create a new authority with powers to monitor and impose fines on the media, prompting widespread protests among opposition groups who had been dealt a drubbing in the previous election.
Reporters Without Borders said the new regulator had the power to interfere in editorial decision-making and some employees of the state broadcaster went on hunger strike in protest.
When Prime Minister Viktor Orban, the spearhead of the new law whose right-wing Fidesz party dominates the country's parliament, addressed the European parliament in Strasbourg, he received a frosty reception from Green MEPs (above).
Unperturbed, Mr Orban ploughed ahead with an energetic reform programme which also saw sweeping changes to his country's constitution.
The power of the Constitutional Court was curbed, and judges were made to retire earlier - a move critics complained would weed out dissenters.
Restrictions on political advertisements, and powers to fine or imprison homeless people, were also introduced.
MEPs expressed their dismay (above) in March 2013, when Hungary's parliament approved the new constitution.
Death by stoning
Sakineh Mohammadi Ashtiani, an Iranian woman, had been sentenced to death by stoning for adultery.
In May 2006, Ashtiani was found guilty of having had an "illicit relationship" with two men following the death of her husband. She was given 99 lashes.
Her plight came to international prominence in 2010 when news of her sentence emerged. UK Foreign Secretary William Hague said stoning was a "medieval punishment" and that its continued use showed Iran's disregard for human rights.
The sentence was commuted in July that year, but fears over Mohammadi Ashtiani's fate persisted.
In September 2010, many MEPs donned "Save Sakineh" t-shirts, calling on Iran to release her.
Rather than curbing the protest, some parliamentary officials got involved. Roberta Angelilli, a deputy speaker of the parliament, is pictured above.
Acta in plot twist
The Anti-Counterfeiting Trade Agreement (Acta), an international agreement designed to tackle piracy, had already been approved by 22 EU member states, including the UK, and powerful non-EU economies such as the US, Australia, Canada, Japan, Morocco, New Zealand, Singapore and South Korea.
But Acta was pronounced dead after MEPs voted against it in July 2012, using new powers handed to them by the Lisbon Treaty.
Campaigners had argued that it would have posed a threat to online freedoms.
Nobel cause
Political activist, author, university professor and general annoyance to the Chinese Communist Party, Liu Xiaobo was jailed for 11 years in 2009 for subversion.
He was awarded the Nobel Peace Prize in 2010 for having stood up to the Chinese government and demanded political change.
China's foreign ministry described the award as a "farce", complaining that the Nobel committee was attempting to "interfere with China's internal affairs or infringe upon China's legal sovereignty".
Mr Liu was a criminal, it added. Green MEPs (above) were not convinced, attending debates dressed in "Free Liu Xiaobo" t-shirts.