The battle for public opinion over EU referendum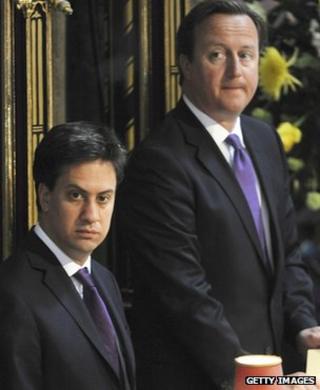 And so the battle for Europe begins. Labour has announced that it will abstain when the bill enshrining an in-out EU referendum in 2017 comes up for its first vote in the House of Commons on 5 July.
This bill, you will remember, has been tabled by a Conservative backbencher, James Wharton, to try to persuade voters - and some Tory MPs - that David Cameron is sincere in his promise of a referendum by 2017.
Mr Wharton will publish the details of the bill next week but they will come as no surprise to an initially reluctant Downing Street that has now come fully on board and is working closely with him to get the details right. I am told that on 5 July no less a figure than the Foreign Secretary William Hague will wind up for what is merely a private member's bill.
Ed Miliband has ordered his MPs to stay away in the hope hope their empty benches will show the Tories are talking among themselves, obsessed with an issue that bothers few voters. I fully expect the Labour leader on 5 July to have a high profile engagement away from London focusing on the economy or the health service so he make that point in word and picture.
This decision means that the bill will pass its first commons hurdle with no trouble at all. But it does not mean that it will become law.
Labour has only said it will abstain in July's vote, the so-called second reading when MPs debate the principle and not the detail of a bill. They are only doing so because they are confident in their view that the bill will die. Labour sources make clear that the party will oppose the Wharton bill in later stages of its parliamentary process. They just have yet to decide how.
And Labour is right that this bill will struggle to become law. Here are some reasons:
1. This is not a government bill. The Lib Dems oppose it. That is why the Tories have been forced to introduce it as a private members' bill. The Tories do not have a majority in the Commons.
2. By and large, private members' bills only become law with government support. They are easy to kill without government backing. They have only a limited number of days allotted to them. All opponents have to do is come up with as many amendments as they can think of and talk about them for as long as possible.
3. Opponents could try to designate this as a "constitutional bill". This means that the detailed committee stage of the bill takes place on the floor of the House of Commons, clogging up even more time and disrupting mainstream government business. Government ministers will not want this to happen.
4. That said, the first key battleground will probably come in the detailed committee stage upstairs on the committee corridor. The Tories will try to rush the bill through as quickly as possible while delaying all other private members' bills. This would mean that the EU bill would be first in the queue for its report stage. Opponents will try to do exactly the opposite.
5. The second main battleground will come, probably in November, at the report stage. This is when there will be big votes. Labour MPs and others will filibuster, talking on and on in attempt to talk the bill to death. This is when the Tories will turn up on Fridays en masse to vote for so-called closure motions, which will end discussion on that particular amendment and move the bill on to its next amendment or stage.
6. Even supporters of the bill could complicate matters by trying to amend it. Some Tory MPs want two referendums not one, some want to be specific about the referendum question. My understanding is that the bill will try to avoid this by allowing the Electoral Commission to write the question for them to ensure it is balanced. I am also told that David Cameron has been meeting potential Tory purists to assure them that his policy on Europe is not going to change again and that the Bill will only have his support if stays the way it is.
7. Labour could wait and kill the bill in the House of Lords. The Tories do not have a majority in the House of Lords and it is much harder to control the parliamentary timetable there. For example, there is no so-called "guillotine" that allows the government to move the process on.
There are more reasons, but I fear I might exhaust your patience and interest.
The crucial point is that it does not matter whether or not this bill becomes law. Even if it did reach the statute book, this parliament cannot bind the next and whoever is in power after the next election could repeal the Act.
What matters is who wins the battle for public opinion. Labour wants to portray David Cameron as weak, the leader who is so little trusted by his backbenchers that he is backed into accepting a referendum bill he never wanted. The party wants to portray the Tories as obsessed with themselves and Europe, not issues that matter to real people. The Tories, they say, should not use a political stunt to mess around with the constitution.
In turn, many Tories privately accept that the bill is unlikely to become law. But they are quite happy to use it to attack the Labour Party. They want to portray Ed Miliband as so weak that he cannot force his MPs to back his opposition to an in-out referendum. They want to portray Labour as divided on the issue, with Ed Balls apparently fearful of getting on the wrong side of public opinion. In other words, the Tories hope to turn an issue that divides them into an issue that unites them. They also say Mr Miliband will struggle to get his MPs to turn up on Fridays when the detailed battle begins in the autumn.
Post script: One quick but important thought. Because Labour will not be present in the Commons on 5 July, they will not have to vote on the principle of the bill. They won't be there to vote against the idea of a referendum in 2017. This means that the party will give itself the wriggle room potentially to change its position in the future, should it so decide.