Syria: No decision on arming rebels, says William Hague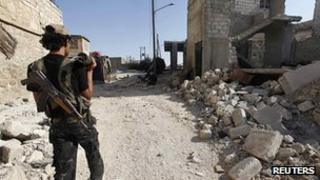 UK Foreign Secretary William Hague has warned there are no "palatable options" for dealing with the crisis in Syria.
He told the BBC there were "extremists" supporting both President Assad's government and rebel forces, but said help would go towards "moderates".
But Mr Hague said the government had not taken any decision on whether to send weapons to the opposition.
Labour said Syria was "awash with arms" and warned against "launching an arms race by proxy" with Russia.
Meanwhile, London Mayor Boris Johnson urged the government against "pressing weapons into the arms of maniacs".
The Syrian conflict is set to dominate the two-day summit of the G8 group of industrialised nations in Northern Ireland.
'Not easy'
An estimated 93,000 people have died in Syria since the fighting began in 2011, with the US and UK governments saying they believe the government has used chemical weapons, which it denies.
The US announced on Friday that it would supply some rebels with direct military aid.
This followed the UK and France succeeding in getting the European Union to lift its ban on supplying arms to the country.
But Russia, a supporter of Mr Assad, has insisted it will continue supplying arms to the "legitimate government of Syria".
This has increased fears the conflict will escalate. Last week, 81 Conservative MPs wrote to Prime Minister David Cameron demanding a full House of Commons vote before any arms were sent.
But Mr Hague told BBC Radio 4's Today programme: "We have not taken any decision at this stage."
Of Syria, he added: "It's the worst human tragedy of our times. It's on a trajectory to get worse. I don't want to underestimate the severity and bleakness of this crisis."
Mr Hague said it was important to back "sensible" parts of the opposition, adding: "We really shouldn't be ruling out any options, and there are no palatable options at all. Of course it's not easy to take any decision to send arms into a conflict.
"It's also not easy to take a decision to allow people to be killed who are faced by much superior arms and who may be driven to radicalism and extremism by being placed in that situation."
'Beyond reason'
Asked about the make-up of the rebel groups, the foreign secretary said: "There are certainly extremists on both sides."
But he continued: "We shouldn't fall into the trap of thinking that everybody on those sides is an extremist. There are a lot of decent Syrians."
The UK is currently sending "non-lethal" equipment, including humanitarian aid, to rebels.
For Labour, shadow foreign secretary Douglas Alexander told the BBC: "It has to be acknowledged that Syria is already awash with arms."
Providing more would mean a "near certainty that you are launching an arms race by proxy with the Russians".
He added that the help suggested by supporters of arming the rebels would provide "exactly the weapons that... al-Qaeda has been trying to get hold of.
"How can we be sure that, if those weapons are provided to today's moderates, they won't become tomorrow's radicals?"
And Conservative MP Julian Lewis said any government plans to arm the rebels would be "very heavily defeated" in the Commons.
Victory by the Syrian opposition could mean weapons stockpiled by the Assad government, including Sarin gas, going to al-Qaeda, the UK's "deadliest enemies", he added.
Writing in the Daily Telegraph, Boris Johnson said: "Surely to goodness it is time to recognise that no one can win this conflict, because it has become at least partly a religious conflict, between Sunni and Shia. No one can win that conflict because it is almost beyond reason."
He called for a "total ceasefire", adding: "We can't use Syria as an arena for geopolitical point-scoring or muscle-flexing, and we won't get a ceasefire by pressing weapons into the hands of maniacs."
He later told the BBC that he trusted David Cameron to take the right approach and to find a clear way of "helping the good guys" and the cause of democracy in Syria.