Bilderberg conference: £1.3m spent on police costs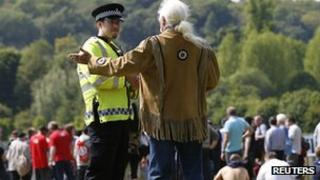 The cost of policing the recent Bilderberg conference of political and business leaders will top a million pounds, the Home Office estimates.
Policing Minister Damian Green told MPs the police budget for the four-day event, held at a hotel near Watford, was in the region of £1.3m.
But he said Hertfordshire Constabulary had received an offer of £500,000 of funding from the conference sponsors.
David Cameron, George Osborne and Ed Balls were among those to attend.
Mr Green published the details in response to a parliamentary question from Labour MP Paul Flynn, one of a number of MPs who have called for greater openness about the organisation's proceedings.
"It seems to be an unnecessary burden on the public purse," he said of the policing costs.
"I don't think anything sinister is going on there but it is public money and on that scale we are entitled to find out what is being decided there."
The proceedings of the Bilderberg Group, which has met since 1954, are not reported on under what are known as "Chatham House rules".
Ministers have dismissed claims that the Group influences the coalition as "nonsense". Ken Clarke told MPs last week that it could not arrange a conspiracy as its members could "never agree" on any subject.